Heads hit out over English Bacc 'league tables'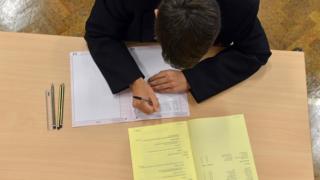 Ministers have been accused of shelving a new measure of school accountability in England before it is introduced.
Heads fear a new, broader measure of progress, Progress 8, will be superseded by school data on English Baccalaureate entries and results.
In a consultation, the government proposes to use the percentage of pupils entered for the EBacc as a headline school league table measure.
The government said it was not intended that EBacc would replace Progress 8.
Rather it would be used alongside Progress 8 to measure school performance.
The EBacc is:
A set of good GCSEs (grades A8 to C) in English, maths, the sciences, a language and a humanity.
Schools have been told they should offer this range of subjects to as many pupils as possible
The aim is to ensure the vast majority of pupils can access "a broad and balanced curriculum"
About 39% of pupils took the EBacc last year
Many heads say it sidelines other solid academic subjects and could be too difficult for many pupils.
'Rigour and breadth'
Progress 8 is:
A measure of school performance based on a pupil's GCSE results in English and mathematics, their best grades in three other EBacc qualifications, and three more GCSEs or other approved qualifications
It measures progress from the start of secondary school to the end of GCSEs and compares it against schools of similar character
Scores will be demonstrated by a number between 2 and minus 2, with 0 being the average of similar schools
It is set to replace the percentage of pupils gaining five good GCSEs, including English and maths, as the headline measure of school accountability.
National Association of Head Teachers general secretary Russell Hobby argued Progress 8 "delivered the right balance between academic rigour and breadth".
He added: "The subjects which count towards the EBacc are not the only ones which are rigorous or useful preparation for later life; religious studies and music are both examples of demanding and useful qualifications. Given the pressures created by the Ebacc, there will be precious little time left for subjects outside the core.
"The EBacc is also a further restriction on school autonomy and another attempt to manage the education system through exam reforms and league tables, rather than investing in the resources that truly make a difference.
"Progress 8 has not even been given a chance to work before more changes are proposed - creating further turmoil in secondary education."
In its consultation, the government reiterates its long-term aim to have 90% of pupils in all schools studying the EBacc.
'Rewards teaching'
"The government has announced that Progress 8 will replace 5A*-C including English and mathematics as the basis of the floor standard, the minimum standard that we expect schools to meet. This is a fair way of holding schools to account and we do not propose to change this," the consultation says.
It says that Progress 8 "rewards schools for the good teaching of all their pupils" and encourages them to offer a broad and balanced curriculum.
"It does not, however, require pupils to take the full EBacc," it adds.
"We propose that the best way to ensure that the benefits of a rigorous academic education are extended to all pupils, regardless of background, is to include EBacc entry as a headline measure in the performance tables."
It points out that currently this measure is reported in performance tables as additional information about secondary schools.
"By publishing EBacc entry information as a headline measure in the future we will provide clear information for parents, governors and others on the proportion of pupils being taught these important subjects," it adds.
The DfE said in a statement: "It is completely untrue and misleading for the NAHT to suggest that the EBacc accountability measure will replace Progress 8.
"EBacc entry would be an additional performance measure and provide clear and high profile information for parents, governors and others on the proportion of pupils being taught these important subjects. Our response to the consultation on implementing the English Baccalaureate will be published in due course.
"Instead of causing undue concern within their profession, they should be more focused on making sure all young people can study the core academic subjects that give them the skills to succeed."