Scotland's chance to lead the World on education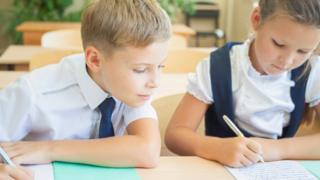 They have always done things differently in Scotland.
Indeed, for decades, the Scots have prided themselves on excellence in education, delivered through a system of exams and qualifications entirely independent of the rest of the UK.
More recently there has been unease about whether this is delivering well enough for all children.
Nicola Sturgeon has made closing the gap between those from poorer backgrounds and better off homes one of the key priorities of her SNP government.
High stakes
A weighty review published by the OECD shows why this is politically high stakes.
Scotland is doing less well in international tests on maths than previously and national surveys show a growing gap between the least and most deprived in literacy too.
What also emerges very clearly from the review is the confusion across the system about the Curriculum for Excellence. After years of planning it began to be introduced in schools in 2010. It will not be until the 2020s that the first children educated entirely within it emerge from the school system.
It is more of a philosophy of learning than a set of set learning materials and assessment tools. It is meant "to promote a holistic understanding of what it means to be a young Scot".
Some teachers have grumbled the focus on broad brush themes of numeracy, literacy and health and wellbeing across subjects has left them puzzled what exactly to teach.
The curriculum is meant to be about encouraging schools to build pupils' capacity to learn, rather than centrally dictating the content.
School autonomy
There is a great deal of autonomy for teachers and schools, one reason perhaps why recruitment is described as "solid".
It is the antithesis of the much more prescriptive approach of government in deciding what children should learn in England's schools.
So back to that political challenge. What the OECD captures is the sense this could be a "make or break" moment for Scottish education. The holistic approach may have the potential to become a leading example of a curriculum for the 21st century.
But there needs to be a much clearer shared sense of direction between teachers, school leaders, local councils and the government. And that will have to be mustered at a time when pressure on education budgets is intense.