Fight to save Royal School for Deaf Children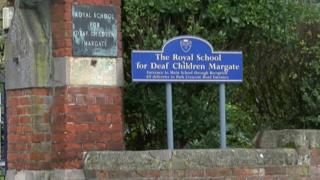 Campaigners are fighting to save a specialist school for deaf children, which closed suddenly last week.
Parents were informed on Friday evening that the Royal School for Deaf Children in Margate, Kent, would close with immediate effect.
Some 360 out of 500 staff were made redundant, with 140 staying on until alternative care is found for pupils by late January.
Families said they were "stunned and devastated" by the announcement.
Both the school and nearby Westgate college, which caters for 19- to 23-year-olds, closed after the trusts that run them went into administration.
Complex needs
Campaigners say the school is one of a very small number that cater for deaf children with complex additional needs such as autism and learning difficulties.
At the time of closure, there were about 150 children at the school and college.
"Many parents will be unable to work, as they will now have to care for their highly vulnerable children," the British Deaf Association (BDA) said.
Six children had no home to go to over Christmas, because their families were unable to meet their needs at home, the organisation added.
BDA chairman Dr Terry Riley, a former governor of the school, said he was "saddened" by the closure.
The school, which opened in 1792, was the oldest school for deaf children still operating in the UK, he said.
"These are children who have been marginalised by society for being 'unteachable'," he said.
"Yet, through the perseverance and dedication of the staff, parents and family, they had hopes.
"It is an extremely worrying situation for pupils and their families to see these hopes shattered."
Dr Riley said the BDA had requested urgent meetings with the administrators and with Education Secretary Nicky Morgan and still hoped to have the decision reversed.
'Thriving'
Parents said their children had made remarkable progress at the school.
Kimberley Carrara's daughter Sasha had been predicted "limited developmental progress" before she started there 18 months ago but had since been "thriving".
"We moved our family across the country so that Sasha could attend this school." said Ms Carrara, adding: "We fear for her future."
Jan Turner, whose 22-year-old son Aiden started there aged five, said many of the children could not comprehend what had happened and were very stressed.
"I don't think anyone has considered the impact on the children, their families and on the carers," she said.
Ms Turner said she was taking legal advice as part of an ongoing campaign to save the school and associated accommodation.
She has set up an email helpline for parents at careprovisionjtt@yahoo.co.uk.
On Friday joint administrator, Geoff Rowley, of FRP Advisory, said the priority was ongoing provision of core services and care, and the wellbeing of pupils, residents, and their families.
"In reaching their conclusions about whether to continue with operations, the joint administrators have to look at the financial position while always ensuring that services only continue where they can be guaranteed to meet the requirements of the Care Quality Commission and Ofsted, aimed ultimately at keeping the right levels of care at the heart of the assessment," he added.