Many graduates in professional jobs, figures show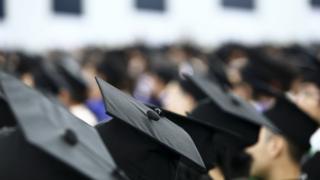 Four-fifths of UK students who graduated in the 2008 recession are now professionally employed or undertaking further study, statistics suggest.
Higher Education Funding Council for England analysis indicates three and a half years after graduation, 96% graduates were in employment.
Nearly 80% were in professional jobs or undertaking further study.
But many students from disadvantaged homes continued to face barriers to success after they graduated.
The Hefce report said six months after graduating in 2008-09, employment rates ranged from 60% among the most disadvantaged to 67% among the least disadvantaged.
Three years later, this varied from 73% to 81%.
Hefce's analysis also suggested black Caribbean graduates had the lowest rate of professional employment six months after graduation (55%) and also 40 months later (66%).
Indian and white graduates had the highest rates after 40 months (79% and 79% respectively).
The study looked at UK-domiciled students who qualified from a full-time, first degree course in the academic year 2008-09.
Barriers
Prof Les Ebdon, director of Fair Access to Higher Education, said: "This means that students from disadvantaged neighbourhoods, or from certain ethnic groups, were less likely on average to be employed in professional careers.
"So, despite having studied hard to get to university, many students from disadvantaged backgrounds continue to face barriers to success after they graduate.
"Fair access isn't just about getting talented people from disadvantaged backgrounds into university - it's also about helping make sure they get on in life."
Hefce chief executive Madeleine Atkins said the research was further confirmation that degrees were "worth it".
"It is really encouraging to see how graduates' early careers develop in such dynamic ways within three years, and that most graduates are in professional employment or further study.
"The research confirms findings from other studies that professional employment outcomes are lower for some groups of students, and we will continue our work with universities to address these areas of inequality."