Degree grades for state and private pupils compared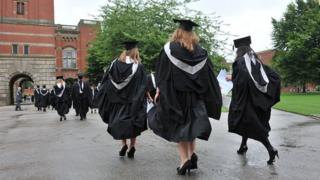 Update 4 November 2015: The original version of this story reported that state school pupils were more likely to get top degree grades than those from private schools. However, the Higher Education Funding Council for England later said it had erroneously transposed the figures, and the reverse was the case. As a result we have replaced our original story.
The Higher Education Funding Council published an analysis showing degree grades awarded to different groups of students who graduated in 2014.
The figures showed women achieved better degree grades than men.
The study showed that 82% of former private school students achieved a first or upper second degree, compared with 73% of state school students.
There has been concern about "grade inflation" and rising numbers achieving top degree grades.
The analysis showed that for students entering with the equivalent of three C grades at A-level, 70% will achieve a first or upper second class degree. For students with three B grades, 80% are awarded a first or upper second.