Higher fees 'cut drop-out rate'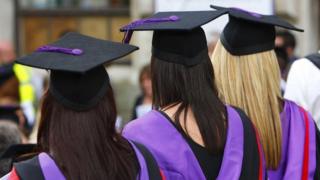 University drop-out rates fell sharply after tuition fees were increased, according to researchers.
A report from Lancaster University Management School examined the impact of the 2006 round of fee increases, when they rose to about £3,000.
It indicated drop-out rates had fallen by 16% - with the biggest reduction in prestigious Russell Group universities.
The study suggests higher fees focused students' thoughts on the need to get a good degree and pay off their debts.
The research, from economists Steve Bradley and Giuseppe Migali, examined how the trebling of fees almost a decade ago changed the likelihood of first-year students in England and Northern Ireland dropping out from their university courses.
Since then fees have trebled again in England to £9,000 per year.
Changed attitudes
This increase in fees, from about £1,000 to £3,000, was implemented from 2006 - and the study suggests it prompted a significant and sustained decrease in students dropping out.
The study indicated drop-out rates had fallen across all subject areas, for all socio-economic backgrounds and for both men and women.
The biggest drop, of 33%, was among students at Russell Group universities, particularly male students. And in subject areas, the biggest reduction was in the social sciences.
The researchers suggest a change in behaviour among those at university and those considering whether to become students, when the cost of leaving a course meant paying back £3,000 per year.
The study also suggests a more transactional attitude.
Students were encouraged to "exert greater effort" to increase their chances of earning a good degree, getting a better job and being able to pay off their increased student loans, the researchers say.
Working harder was also likely to mean that students were less likely to struggle academically.
Record numbers
The study also suggests that higher fees could have deterred some young people from going to university.
Some lower-achieving youngsters from low-income families might have decided not to apply, suggest the researchers, and these might have been at a higher risking of dropping out.
Researchers also highlight other factors that could have influenced students' decisions.
The financial crisis of 2008 and a much tougher jobs market could also have been factors why students preferred to stay in education.
But the figures, examining student behaviour up to 2010, showed a consistently lower drop-out rate than before fees had been increased.
The research comes as record levels of students are about to begin university courses, with the latest admissions figures showing recruitment is running 3% higher than last year.
This follows the government's removal of a cap on student numbers.