Massive online courses set sights on sixth formers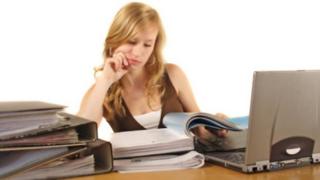 Three free online programmes, aimed at helping sixth-formers bridge the gap between school and university, are due to launch this summer.
The university-led "massive open online courses" (MOOCs) will be available on the FutureLearn website.
The content includes choosing a university and how to apply.
The aim was to help students choose a degree course "that is right for them", said FutureLearn's head of content, Nigel Smith.
The courses are due to begin soon after sixth-formers have sat their AS and A-level exams in June and July, when they will be thinking about starting university or applying for a degree course in the autumn.
Critical thinking
Sheffield university is providing two courses on applying for jobs and courses and succeeding at interviews.
The first includes writing covering letters and personal statements.
The second is on interviews, covering how to research organisations, what to wear and how to deal with commonly asked questions.
Both courses include input from employers and admissions tutors and are open to anyone, not just young people.
The third, from the University of East Anglia, includes advice from lecturers and undergraduates on the skills new students will need.
This focuses on critical thinking, data analysis and how to sustain a supported argument as well as coping with the university environment.
Mr Smith said: "At age 16-18 you don't necessarily feel ready to make such an important life decision as choosing what to study at university.
"We hope that these new courses help students feel better informed and prepared for university so that they are more likely to make the decision that is right for them."
FutureLearn is the UK's platform for online courses, with more than 50 partner universities and institutions such as the British Museum.
It recently announced its English language proficiency course had set a record for the most number of students.
Some 370,000 students have enrolled for the British Council course on FutureLearn to prepare for International English Language Testing System exams.
The platform competes against major US rivals such as Coursera, which was founded by academics from Stanford University, and edX, created by Harvard University and the Massachusetts Institute of Technology.