Cambridge sees slight rise in state school students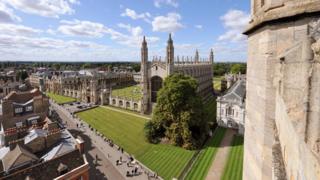 The proportion of state school pupils admitted to Cambridge University rose slightly last year to 62.2%, according to figures published by the university.
A record 16,752 people applied to start undergraduate degrees at Cambridge last October and 3,448 gained places.
The proportion from state schools rose from 61.4% in 2013.
Successful applicants had won their places "by demonstrating their potential to excel at Cambridge", said director of admissions Dr Mike Sewell.
Some 37.8% of successful applicants came from private schools, the figures show.
Overall, 7% of UK schoolchildren go to private schools and 14% of sixth-formers, according to recent figures from the Independent Schools Council.
Highly selective
The figures indicate one in five students competed for every Cambridge place, with 10,310 applications from students in the UK alone.
The overwhelming majority (97.3%) of successful applicants gained at least an A* and two A grades at A-level, said the university - up from 96.8% in 2013.
The university's target, agreed with the Office for Fair Access to higher education in England (Offa), is to admit between 61% and 63% of students from state schools.
The university says its commitment to outreach work in schools and a transparent admissions system based on academic attainment have helped it meet this target.
Last year, it spent £4.5m on 4,000 access events for pupils and teachers, including college and departmental open days, subject masterclasses, a residential summer school and a student shadowing scheme.
It also awarded £6m of bursaries to more than 2,000 students from low-income backgrounds.
"We are delighted to see another increase in the number of talented students applying to study at Cambridge," said Dr Sewell.
"We can assure all applicants that they have been assessed holistically as an individual.
"Those who have been successful have won their offers and acceptances on the basis of their academic achievements and by demonstrating their potential to excel at Cambridge."
Some 47% of successful applicants were female, just under 19% were from an ethnic minority background and just under 5% had a disability, the figures suggest.
Progress
In April similar statistics from Oxford University showed the proportion of successful applicants from state schools was 56.3%, slightly down from 56.8% in 2013.
A spokeswoman for Oxford said school type could be a "crude and sometimes misleading indicator of disadvantage", with plenty of well-funded state schools in affluent areas and many poor students given scholarships at private schools.
"This is one reason why our access agreement with Offa focuses on socio-economic and educationally disadvantaged groups rather than school type."
Oxford spent £5.5m on outreach activities last year and £11m on financial support for the poorest students and saw an increase in the number of students from the most disadvantaged postcodes "even as competition for places increased", she added.
Prof Les Ebdon, director of Offa, said improving access to universities with the highest entrance requirements was a key strategic aim.
"Under our regulation, these universities have upped their game in recent years, with a 40% increase in disadvantaged students since 2011.
"Despite this progress, there remains much to be done. Young people from disadvantaged backgrounds are still nearly seven times less likely to attend a highly selective university than their most advantaged counterparts.
"We are working with universities to make further, faster progress in closing this gap."