'Almost a third of MPs went to private school'
By Judith Burns
Education reporter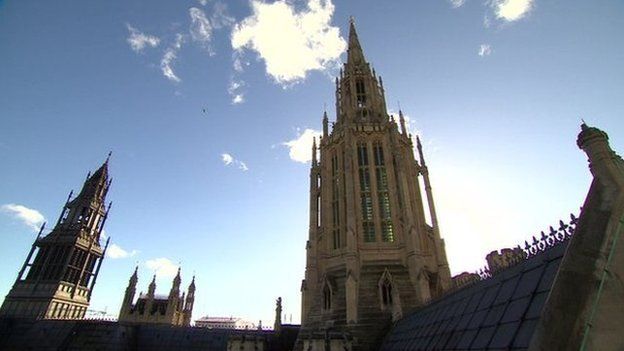 Almost a third (32%) of MPs in the new House of Commons went to private school, according to an analysis by an education charity.
Of these, almost one in 10 went to Eton, suggests the Sutton Trust study.
Among Conservative MPs, nearly half (48%) were privately educated, the report indicates.
The figures show "a big challenge still remains" to help "those from less privileged homes to fulfil their potential", the charity says.
"If Parliament is truly to represent the whole nation, the best people should be able to become MPs, regardless of social background," said Sutton Trust chief executive Dr Lee Elliot Major.
The data is based on information on the schooling of 599 of the 650 MPs elected to the House of Commons last week.
Female MPs were less likely to have been privately educated (24%) than their male counterparts (35%), the figures suggest.
Among Labour MPs, some 17% went to private schools, among Liberal Democrats the figure was 14%.
The figure was far lower among Scottish National Party MPs, at just 5%.
However, almost a quarter of the MPs from the other smaller parties elected to Westminster on Thursday were privately educated.
The Sutton Trust says the new House of Commons is marginally more representative of the general population than the one elected in 2010, when 35% of MPs had been to a fee-paying school.
But only 7% of the general population has been privately educated, the trust says.
MPs educated at comprehensive schools now make up 49% if the House of Commons, an increase from 43% in 2010.
Almost two-thirds of Labour MPs and a third of Conservatives, 57% of Liberal Democrats and 90% of Scottish Nationalist MPs went to comprehensives, the analysis indicates.
Some 19% of the new House of Commons went to state grammar schools, down from 24% in 2010.
Some nine out of 10 are graduates, and more than a quarter (26%) hold degrees from Oxford or Cambridge, with 28% having attended another Russell Group university.
The report urges the new House of Commons to adopt policies that increase the life-chances of able young people from low and middle income backgrounds.
"The make-up of the House of Commons may have changed a lot this week, but the members of the new House show little change from those who preceded them in one significant respect: where they went to school and university," said Dr Elliot Major.
"Today's figures remind us how important it is that we do more to increase levels of social mobility and make sure that bright young people from low and middle income backgrounds have access to the best schools and the best universities."
Related Internet Links
The BBC is not responsible for the content of external sites.