Sajid Javid takes charge of university funding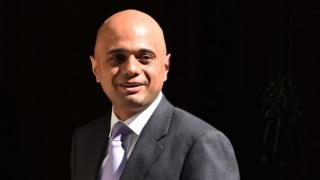 Sajid Javid has been appointed business secretary, heading the department responsible for universities.
Under the previous coalition government, this had been Vince Cable's department and had overseen the raising of tuition fees in England.
Jo Johnson will be the universities and science minister within the business department.
The Conservatives campaigned on allowing universities to expand undergraduate student numbers.
They are committed to introducing a postgraduate loans system and made a manifesto promise that universities would "deliver the best possible value for money to students".
University fees
There was also a promise for a "framework" to recognise high-quality teaching, which was interpreted as making sure that universities were not only ranked on research but on the quality of teaching received by students.
But Mr Javid, a former culture secretary, is likely to face controversial decisions about university funding. While students have campaigned to cut tuition fees, some universities are likely to argue that they need to be increased, as the value of the £9,000 introduced in 2012 is eroded.
Universities will also be lobbying the new secretary of state about recruiting overseas students.
They have called for international students to be taken out of migration targets and warned that the visa system can act as a deterrent for legitimate students considering UK universities.
The Russell Group, representing leading research-intensive universities, said on Mr Javid's appointment: "The new government must ensure our universities have sufficient funding to carry out cutting edge research and provide excellent teaching to students.
"It is also important that we can continue to attract the very best students and academics from around the world."