Languages may be passport to Oxbridge, data suggests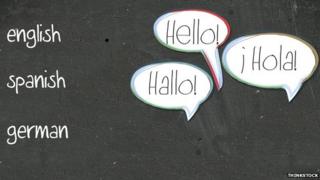 Students with good grades are more likely to win a place at Oxbridge and top universities to study languages than in recent years, data suggests.
Analysis of UK application statistics, by the Press Association, shows many top Russell Group universities have seen a sharp drop in applications for European language courses since 2010.
This has led to a higher proportion of applicants being accepted.
It comes amid continuing concerns about a fall in language learning.
The Press Association analysis looked at applications made through the main University and College Application Service (Ucas) scheme to study European languages, literature and related courses at the 24 Russell Group universities in the UK and the number of acceptances. Would-be students may apply for more than one course.
The findings show that at a number of institutions, the proportion of applications accepted has risen in the past five years.
'Marginally easier'
For example, there were 580 European language applications to Cambridge in 2010, and 165 acceptances - a rate of 28.4%. In 2014 the 170 acceptances from 385 applications led to an acceptance rate of 44.2%.
Meanwhile, at Oxford, the acceptance rate was 28.4% in 2010 with 165 acceptances from 580 applications. In 2014 the acceptance rate had risen to 32%, with 165 acceptances from 515 applications.
Oxford said that its own admissions figures show an application success rate for modern languages of 31.6% in 2009, 29.1% in 2010 and 33.4% in 2014.
At Bristol University the acceptance rate rose from 15.6% to 19.4% between 2010 and 2014.
While at King's College London the acceptance rate rose from 12.9%, in 2010 to 21.7% in 2014.
The acceptance figures cover a university offering a place and the student taking it up.
Overall, across all of the 24 Russell Group institutions - including the London School of Economics and Imperial College which did not record any figures for European languages - there were 17,390 applications in 2010 and 2,765 acceptances - a rate of 15.9%.
In 2014 across these universities, there were 14,075 applications and 2,455 acceptances - a rate of 17.4%.
But Ian Bauckham, former president of the Association of School and College Leaders (ASCL) and head teacher of Bennett Memorial Diocesan School, in Tunbridge Wells, said the number of Ucas applications for European modern foreign language (MFL) courses had fallen by nearly 20% between 2010 and 2014.
This means the "reservoir of students" wanting to study languages has fallen markedly in this five-year period.
"Meanwhile, the average acceptance rate, so the proportion of applicants across the sample, who were accepted on to courses, has risen from 15.9% in 2010 to 17.4 % in 2015," he said.
"This is a smaller increase than you might expect from the reduction in the number of applicants, which indicates that the number of available places has almost certainly decreased. However, it is still true to say that it is marginally easier to get into a European language course in 2014 than in 2010, but only marginally.
"However, the biggest concern here is the 20% fall off in applications in five years. If this trend continues for another five years at the same rate then it is easy to see that numbers will have fallen very significantly over a 10-year period.
"The problem is that there is a 'cliff edge' - small and medium-sized departments will go down beyond the point of sustainability and we will start to lose MFL departments in universities."
'High entry requirements'
Mr Bauckham added that as a result of the English Baccalaureate, there had been an increase in students taking languages at GCSE until very recently, but this had not fed through to A-levels and degree study.
Dr Wendy Piatt, director general of the Russell Group, said that their universities wanted to see more students studying languages at GCSE and beyond and offer a wide range of degrees that included the subject.
"It is a real shame that so many students have missed out on taking languages over the last few years, and we hope to see entries increasing at GCSE and Advanced Level.
"However, it is important to remember that our universities have high-entry requirements and they will only offer places to students who will flourish and succeed on their courses. Admission to university is and should be based on merit, and any decisions about admissions must also maintain high academic standards."