Funding crisis will damage education, say head teachers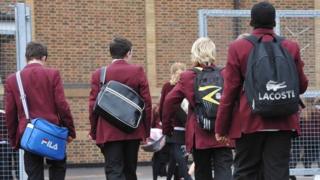 A funding crisis in schools in England risks damaging pupils' education, according to a survey of head teachers.
Nearly 90% of the more than 1,000 heads surveyed by the Association of School and College Leaders said their schools faced detrimental financial pressures.
Almost half (49%) said their budgets were "critical" or "very serious".
The Department for Education said it had protected the schools budget and had committed to introducing a national funding formula.
The survey was carried out earlier this month and is published to coincide with ASCL's annual conference in London.
'Financial pressure'
Many heads said they had already encountered severe financial pressures over the past year.
Over three quarters (76%) said that their funding over the past 12 months had not been enough to deliver a high-quality education.
Over half (56%) said they had been forced to reduce the range of courses offered, while a similar proportion (55%) said they had increased class sizes.
Most heads thought the position was likely to worsen over the next 12 months, with more than 80% saying they feared their budgets would not be enough.
Some 70% expected their finances would reach a "critical" or "very serious" state within a year.
In order to balance the books, 70% said they would have to cut courses and increase class sizes.
Some 40% said they would be unable to replace teaching staff who left, more than three quarters (78%) said the same of support staff.
Schools face increased costs amounting to 4.5% because of increases to pension and national insurance contributions and pay rises, says ASCL.
"This issue is of critical importance for the education of our young people and the incoming government in May simply must resolve it," said the union's deputy general secretary, Malcolm Trobe.
A DfE spokesman said it had recently announced an extra £390m to boost schools' budgets and made "the biggest step toward fairer schools funding in a decade".
Pupil Premium payments for disadvantaged students are now worth £2.5bn to schools, said the spokesman.
This ensures "teachers continue to have the resources they need to give all pupils the best possible start at school, regardless of their background".