Teacher stress levels in England 'soaring', data shows
By Matt Precey
Producer, File on 4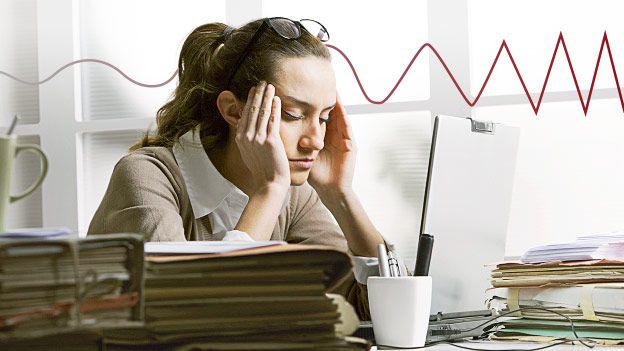 Stress levels among teachers in England's classrooms are soaring, a BBC investigation has found.
Unions are blaming workload for large numbers of staff taking time off work or leaving the profession.
Insurance industry data suggests stress is the biggest cause of staff absence save for maternity.
The Department for Education insists it is working "to tackle the issue of unnecessary workload which we know can lead to stress".
The BBC has also seen a survey of 3,500 members of the Nasuwt teaching union which shows more than two-thirds of respondents considered quitting the profession in the past year.
Workload was the top concern, with 89% citing this as a problem, followed by pay (45%), inspection (44%), curriculum reform (42%) and pupil behaviour (40%). In addition:
83% had reported workplace stress
67% said their job has adversely impacted their mental or physical health
Almost half of the three thousand respondents reported they had seen a doctor because of work-related mental or physical health problems
5% had been hospitalised, and
2% said they had self-harmed.
Nasuwt General Secretary Chris Keates described the results as "frightening".
The results are due to be presented at the union's annual conference next month.
The Department for Education told the BBC it is "committed to supporting the profession to tackle the issue of unnecessary workload which we know can lead to stress".
An insurance company which specialises in covering schools against staff taking time off work carried out an analysis of its claims data on behalf of File on 4.
Absence Protection Ltd's figures show stress accounts for more than double the number of days taken off work for illnesses such as colds or viruses.
More than half its 1,800 clients made stress-related claims last year. And academies, state-funded but privately run schools, saw the highest proportion of lost teaching days due to stress.
According to the firm's Harry Cramer, "with the exception of maternity, stress is the single biggest single reason for days taken off by members of staff".
"Among men it is the single biggest reason."
The data also reveals signification geographical variations.
"There are areas certainly more susceptible to stress-related absences. Teachers in the South East take an average of 29 days off when they take a stress-related absence. By contrast, [teachers in] the east of England take about 11 days off."
According to the latest government statistics, one in 10 teachers left state-funded schools between November 2012 and November 2013.
In a statement, the Dfe said "teaching continues to be a hugely popular career with more teachers in England's classrooms than ever before".
"Record levels of top graduates are entering the profession and the teacher vacancy rate remains steady at just 1%."
Last year, almost 44,000 people - mainly teachers - responded to the government's Workload Challenge survey after the Education Secretary Nicky Morgan expressed her concerns over excessive working hours.
Among the concerns highlighted in the survey were the quantity of marking, the amount of time spent recording data and bureaucracy.
Kirsty - not her real name - was a teacher in Yorkshire. She is one of many who have signed what is known as a "compromise agreement" forbidding them to discuss the reasons for leaving, in exchange for a payoff. Working constant 14 hour days, she says she became ill because of work pressure:
"The GP that I'd seen about it wanted to write 'stress' on my first sick note, and I didn't want him to.
"I said 'please don't write stress, because I think it will cause me a world of problems'.
"I had several kinds of quite abrupt emails from my line manager at the time giving me instructions to provide cover - 'You've got to support your colleagues in taking your classes while you're unwell' - and so I became really fearful.
"I didn't want to go out and see anybody. I became terrified of my phone. If it rang and it was a number I didn't know, I'd be really frightened.
"They just kept saying to us 'we have to keep our outstanding [Ofsted rating]'.
"They'd want to see tons of green pen in books, because to them that was evidence that learning and feedback had taken place.
"That was a massive drain and really easy to get behind with. What they were asking us to do isn't isn't sustainable for ever."
The DfE responded to the Worldload Challenge findings by pledging to have a minimum lead in time when introducing significant changes to accountability, curriculum and qualifications.
Any changes to the Ofsted inspection regime would not be carried out during the academic year, and teacher workload would be monitored through surveys every two years.
The Department insists it is doing everything it can to "relieve unnecessary burdens", promising shorter, streamlined Ofsted inspections and funding for professional development programmes.
But the Ms Keates says the DfE's response to the Workload Challenge doesn't go far enough: "The government isn't listening at all".
"How does professional development alleviate the stress of working 60 hours a week?
"The Workload Challenge was more smoke and mirrors rather than a serious attempt to tackle the enormous burdens teachers are facing."
Ofsted's director for schools, Sean Harford, also responded to claims the fear of inspections creates additional burdens, particularly when head teachers insist on staff producing large amounts of evidence in order to improve the chance of a favourable rating:
"You can't deny that people are responding in different ways to the demands of the accountability system, and I think it would be wrong of us to say we aren't aware of that because from the conversations I've had from teachers and head teachers and unions and the DfE it's clear there are concerns.
"In the autumn we published a document which we've called our clarifications document, and that sought to to take some of the myths teachers and unions told us were out there about what Ofsted inspectors expect when they go into inspect schools."
Related Internet Links
The BBC is not responsible for the content of external sites.