Minister sees 'out-dated attitudes' towards apprentices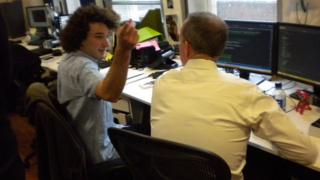 The skills minister says parents and teachers often have "outdated attitudes" towards apprenticeships.
Nick Boles said apprenticeships should be regarded as a clear alternative to a full-time university place.
Marking national apprentice week, he said he wanted to promote the idea that apprentices could "go as far as they want to go".
Labour has also been highlighting the issue, saying it would introduce a "gold standard" for apprenticeships.
Mr Boles believes apprenticeships have an image problem with older generations - teachers and parents - because they were brought up at a time when university was the clear choice for able pupils.
'Attitude problem'
But he said young people were increasingly seeing them as a viable career path, partly as an "unintended consequence" of university tuition fees.
"People are making quite hard-headed pragmatic judgements," he said.
"I certainly think that when I was growing up, even though many fewer people went to university, there was this sense that if you could go to university, then of course you would - it was automatic, the government basically paid for it and it was the thing you would do if you could.
"I think now it's changed for the next generation, but there is a lag, and where the attitude problem remains is with parents, and with teachers."
He said there was still a perception that apprenticeships were for "mechanics and brickies".
And while he was quick to stress these were important, he said they were by no means the whole picture.
"You can now become an apprentice lawyer, an apprentice accountant, or an apprentice journalist, and I think that perception is taking some time to change," he said.
Mr Boles acknowledged the UK lagged behind other countries - notably Germany - where apprenticeships are regarded far more positively as routes into trades and technical professions.
He said we could learn much from Germany, but it would not fit "our economic model" in its entirety.
"I would like to get to a place where there's a choice between two routes, both of which could take you as far as you want to go - one of which is a full-time university degree, the other is an apprenticeship," he said.
Poster boy
The minister was speaking during a visit to Holition, a London-based creative technology company, which specialises in supplying retailers.
He was shown a "virtual mirror" the company has developed that allows shoppers to see what they would look like in selected clothes without having to change into them, or how make-up might look without having to actually put any on.
To my uneducated eye, it appeared to work by magic.
Thomas Monkman, who is 20 years old, could be described as a poster boy of the government's apprenticeship campaign.
He joined the company as an 18-year-old, and three weeks into his 13-month apprenticeship was handling an important project for Hugo Boss.
"I wanted to get straight into programming and this apprenticeship was a great way to do that.
"I wanted to see how programming is actually used in the real world, rather than in theory," he told me.
"Everyone is just told to go down the university route, apprenticeships are not even seen as a viable alternative.
"But it was a fairly easy choice for me - I wanted learn practically, rather than academically.
"Of course there should be a balance - university is the best option for some people.
"But I think apprenticeships should be more widely known about and used."
His boss, Jonathan Chippindale, describes himself as "a huge advocate" of apprenticeships.
"We can find talented people, but they can't necessarily do what we need them to do - apprenticeships give us the chance to mould people into what we need," he said.
"We had quite high minded - almost philanthropic - reasons why we wanted to take on an apprentice.
"But we very quickly realised it was a sound investment.
"We ended up with someone specifically trained to fit into our business."
But Mr Chippindale also recognises that the apprentices also need to benefit.
"We had to prove to him that we were a better career choice for him than going to university."
"Thomas joined at a busy time, and we threw him in at the deep end.
"Three weeks into his apprenticeship he was doing a project for Hugo Boss by himself."
Labour have also been marking national apprentice week, with the shadow business secretary Chuka Umunna outlining his party's plans.
He said he wanted to see more "high-quality apprenticeships, and routes on to technical degrees".
He said he wanted to see the same number of school leavers going into apprenticeships as go to university by 2025.
But he said in order to "ensure genuine parity of esteem between academic and vocational pathways", quality should not be sacrificed for quantity, and that expansion should be "based on a relentless commitment to excellence".