Children in care failed by government, say MPs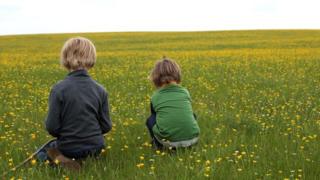 Children in care "get a raw deal" and the government is not doing enough to help them, MPs have said in a report.
In particular the Department for Education shows "alarming reluctance to play an active role" in improving the lot of these children, say the MPs.
Poor local services are too often left to "fester" says the report by the Commons Public Accounts Committee.
But a DfE spokesman said the report "purposefully" ignored "very real progress" made by government.
The life chances of children in care were being transformed, said the spokesman.
"It is a fact that vulnerable children are doing better than ever".
The report comes a day after Ofsted found child social care inadequate or requiring improvement in three quarters of the English local authorities it inspected last year, with services under "intense pressure".
'Too passive'
The Department for Education is best placed to lead improvements in the quality of care but is reluctant to take on this role, only intervening after Ofsted has failed a local authority service, say the MPs.
"The department focused on limiting its responsibility rather than maximising opportunities for children in care," said the committee's chairman Margaret Hodge.
"It is reactive not proactive," said Ms Hodge, adding that the department did far too little to support authorities in improving their services, before they are failed by Ofsted.
The MPs accuse the DfE of collecting lots of data on children in care but being "too passive", leaving responsibility to local authorities and "failing to understand that responsibility to act to achieve better for children in care should be shared".
The report calls for a "step change" in the department's attitude and leadership.
Local authorities look after more than 68,000 children and the outcomes for these children are often poor says the cross-party group of MPs.
'Instability'
Some 62% of children in care have suffered abuse and neglect but "too many still do not get the right placement first time, too many are moved too often, and too few are placed close to their homes," says the report.
In 2012-13 more than a third of children in care had more than one placement during the year, while a third of children in residential care and 14% of fostered children were placed more than 20 miles from home, it found.
The MPs say such instability can have a long term impact on emotional and physical health, social development, education and future employment prospects.
They describe the gap in educational attainment between children in care and their peers as "shockingly wide".
The MPs note the DfE has doubled pupil premium payments for children in care and requires local authorities to champion their educational ambitions. But it has not evaluated the effectiveness of these measures.
It urges the DfE to take an interest in the outcomes of its initiatives, evaluate progress and share successful practice.
The report also urges the setting up of a national database of missing children, arguing that without such a register it is harder to find children who go missing from care, including victims of sex exploitation.
MPs also wants the DfE to set out how it will attract more high-quality people into social work, to allow Ofsted to inspect council children's services more frequently and involve the watchdog in improvements between inspections.
In a statement, the DfE said children in care were doing better at school, and absences had decreased.
"We have introduced tough new rules to stop children going missing, are intervening in councils across the country to ensure children are receiving the services they deserve, and we have undertaken a review of secure places for the victims of child sexual exploitation
"To tackle problems early on, we're also enabling councils to look at innovative ways of caring for vulnerable children, backed by £100m of government funding."