'Delay primary and miss secondary school start'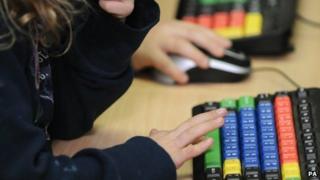 Parents of summer-born children are being told they could miss out on a year of secondary school if they delay their start at primary, MPs have heard.
The Education Committee heard evidence on requests for delayed school starts for reasons of academic maturity.
Michelle Melson, of the Summer Born Campaign, said some head teachers sent work to pre-schools so pupils could skip Reception and start in Year 1.
Ministers say there is no evidence a later school start is beneficial.
Schools Minister Nick Gibb stressed to MPs there was "no statutory barrier to children being admitted outside their age-group", but he added: "Parents do not have the right to expect this."
Some parents of children born between June and August wish to delay their school start because they are worried their young four-year-olds will be expected to do too much too soon.
Numerous research papers suggest summer born children do less well academically, as they are labelled less able than their older peers and are constantly trying to catch up.
Some even ask to defer a year, with the aim that they start school in Reception in an age-group closer to their own chronological age.
But at a one-off hearing before the committee on starting school, Ms Melson told MPs: "Parents are being forced to enrol their child early, prior to compulsory school age, in order to gain a place in their preferred school."
This often means children whose parents delay school entry because they are very young for their year will end up missing Reception class and joining school in Year 1, as they are rarely allowed to defer entry in reality.
'Chronological batches'
She said: "It's not just Reception class that they can be made to miss. Parents are also currently being threatened that they will have to miss Year 7 or another year in school.
This is because having argued their case for starting primary after their age-group, they may not win the same argument at secondary school and may have to go back up to their chronological age-group - hence missing Year 7.
The notion of missing a year was against the academic evidence, which suggested the more schooling children received, the better they performed academically, she added.
Ms Melson also said that where parents were being allowed to defer school entry, they were being told that the pre-school they attended would effectively be their Reception year.
"Some head teachers are telling parents their children will then start in Year 1, but that they will send work to the pre-school," she said.
Ms Melson pointed out that there was a great deal of difference between the way children were taught in Reception, which is more play-based, and Year 1, which is more formal.
But Tammy Campbell, researcher and analyst, at London's Institute of Education, told MPs that children in Reception were increasingly being taught phonics in a formal way.
'Widen the gap'
She said this was despite the fact that it was developmentally normal to not be able to say some of the phonic sounds required for this form of learning to read.
"There's a disconnect between what is required in Reception class and what is developmentally normal," she said.
Mr Gibb defended the practice of phonics teaching in Reception, saying children of this age were generally ready to start learning to read.
He said: "There is no evidence that having a later school start age will have any affect on addressing the relative age effects.
"I worry also if we were to have an increase in the school start age that it would widen the attainment gap between poorer and wealthier peers."
Official Department for Education guidance says a child reaches compulsory school age when he or she is five years old.
The term "summer born" is used to refer to children born from 1 April to 31 August.
These children are not required to start school until a full school year after the point at which they could first have been admitted.