One-third miss first school choice in London as numbers rise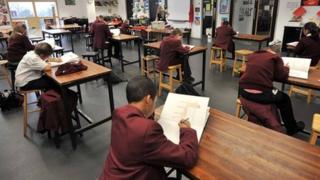 Almost a third of families in London did not get their first choice of secondary school, as places are allocated on National Offer Day.
Admissions bodies say the population growth first seen at primary level has now reached secondary schools.
In London, 68% of applicants got their first preference, fewer than in the previous two years.
The Department for Education says it has invested "more than £5bn to create more than 445,000 new school places".
Hundreds of thousands of families in England have been finding out whether they have been successful in applications for school places.
Rising tide
The pressure on places is most apparent in London, where applicant numbers are up 4% on last year, which in turn were up 5% on the previous year.
---
Families getting first choice secondary school place in London
2013: 71%
2014: 69%
2015: 68%
---
Many schools in the capital have been building extra classrooms to accommodate a rising population.
London state schools have also been seen as among the most successful in the country, increasing competition for places.
And even though a bigger number of London families received their first place than last year, as a proportion the number is down on last year - from 69% to 68%.
The proportion not getting any of their six choices has risen too - up from 5% last year to 6.5% this year - meaning that in every class of 30 primary pupils about two did not get any of their choices of secondary school.
The figures from London, for more than 80,000 places, are from the Pan-London Admissions Board, which oversees the allocation of places across the capital.
There are no national figures yet and the London figures provide a snapshot of the country's biggest centralised admissions system.
The more detailed local authority figures show that the pursuit of places can be even more intense in certain boroughs. In Hammersmith and Fulham, only 55% of families got their first choice of school.
"The demand for places is growing, as we are beginning to see the pressure on primary schools transfer to secondary," said Helen Jenner, chairwoman of the capital's admissions board.
"London boroughs are working with schools to expand the number of places they can offer, but the higher cost of land and construction in the capital means this is often difficult and expensive."
'Tipping point'
In Birmingham, where about 10,000 secondary school places are allocated, a survey from the Press Association found 68.5% got their first preferences.
But it was a very different picture in some other parts of England, with high numbers of families getting their chosen school place. In West Berkshire, it was 92%, and in Derbyshire and Herefordshire 95%. In Cornwall, almost 98% of applicants received their first choice.
David Simmonds of the Local Government Association said he wanted the government to urgently address the pressure on already oversubscribed schools.
"Our fear is that we will reach a tipping point when councils or schools cannot afford the massive cost of creating places or find the space necessary for new classes."
A Department for Education spokesman said it wants all families to have "the choice of a good local school".
"Since 2010 the government has invested more than £5bn to create more than 445,000 new school places - more than double the amount invested in the previous four years - and last year, over 95% of parents got one of their top three choices."