All schools need trained careers teachers, says charity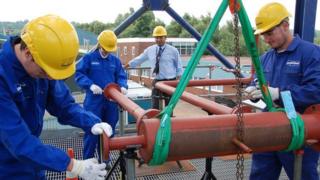 All schools in England should have a teacher trained to give high-quality careers advice, particularly to poorer pupils, says a charity.
Without a fresh effort, careers advice in schools will remain "fragmented and ineffective", says Teach First.
Schools should be held to account for what their pupils are doing two years after GCSEs, it adds.
Education Secretary Nicky Morgan said she agreed schools needed additional support to boost careers advice.
Teach First, which trains high-achieving new graduates to work in challenging schools, launched the report alongside a new careers guidance programme for its own teaching recruits.
'Losing out'
The charity says teachers should be at the heart of careers education with the support of policy makers and businesses.
It says pupils from disadvantaged backgrounds are particularly likely to lose out from poor careers guidance.
The proportion of poorer young people not in education, employment or training after the age of 16, is five times that of their wealthier classmates according to the charity's analysis of official figures.
It wants to see a teacher or member of middle management trained to take the lead on careers guidance in every school.
This would allow them to build and manage links with employers, businesses and independent careers experts and ensure children learn about the working world.
Jude Heaton, Teach First's director for higher education access and employability, said the need for better careers and employability education had "acute moral and economic implications for all of us".
"As those best placed to support children with their aspirations and careers choices, teachers are at the core of any lasting solution, yet too often when we talk about the paths in life that are right for young people, teachers are an afterthought. This needs to change."
He said with the right support, training, and incentives to support pupils with careers learning, teachers could be a "crucial part of the careers puzzle".
"But teachers can't do it alone. The long-term systemic change necessary, requires efforts from policymakers, employers, and rest of civil society. It is time for all of us to act."
'Fantastic work'
Mrs Morgan said some schools and colleges were already doing "fantastic work" to ensure students acquired the knowledge and skills employers needed.
But provision was too often "patchy and in some places inadequate".
"Busy schools and teachers do not always have the time or training to give this crucial area the focus they should," she added.
"It is clear that many schools and colleges need additional support if we are to ensure every young person, regardless of background, receives the life-changing advice and inspiration that they need to fulfil their potential and succeed in life."
She said the government's new careers and enterprise company, announced last year, would help schools develop links with employers and improve pupils employability.
Tristram Hunt, Labour's shadow education secretary, said: "No child should be closed off from the world at the end of their street. But all too often children are being denied the information, advice and guidance that they need to make informed decisions that will shape their futures.
"This is a really exciting report by Teach First and a first-rate plan of action that puts teachers at the heart of the solution."