Well designed school classrooms 'boost academic success'
By Patrick Howse
Education reporter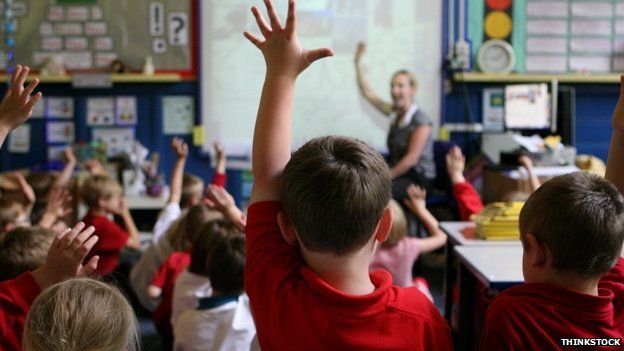 Well designed classrooms boost the academic performance of primary school children, a study suggests.
Researchers from Salford University said the layout, construction and decoration of classes had a significant impact on reading, writing and maths.
Natural light, temperature, air quality and individualised classroom design were especially important, they said.
And whole-school factors, such as facilities and size, had less impact than the design of individual rooms.
Researchers funded by the Engineering and Physical Sciences Research Council carried out detailed surveys of 153 classrooms in 27 "very diverse" schools over a three-year period.
The team said differences in the physical characteristics of classrooms explained 16% of the variation in learning progress over a year for the 3,766 pupils included in the study.
It estimated the impact of moving an "average" child from the least to the most effective space would be about 1.3 sub-levels of the national curriculum - a big impact as pupils typically progress at a rate of two sub-levels a year.
The report's author, Prof Peter Barrett, said there were three main factors involved in good design:
individualisation
stimulation
naturalness
Of these, the last was the most significant, with air quality, light and temperature playing vital roles and together accounting for half the total impact, he said.
"Humans are essentially animals, and their brains respond well to good natural conditions," Prof Barrett said.
Prof Barrett said the team had been surprised to find individual classroom design played a much bigger role than whole-school factors, such as size, navigation routes, specialist facilities and play areas.
"We spent six months looking at that, but in reality it just doesn't come out," he said.
"Why should that be? Well, I would speculate that in a primary school a child's classroom is their world.
"So, when you are designing a school, you have to make sure each and every classroom works."
The team said the amount of visual stimulation - from displays on walls, for example - was also important.
Prof Barrett said: "You need a mid-level of visual stimulation. It is possible to have a classroom that is too plain - but it is equally true that you can overdo it."
John Coe, from the National Association for Primary Education, called the report "refreshing".
"This research makes it clear that it's not just what is said to children - the instruction they get from a teacher - the whole experience is important," he said.
Mr Coe said the report could have implications for teacher training and the current emphasis on test results.
"The study directs us back to the individuality of the child," he said.
"They are not just units, they are individuals, and more attention needs to be given to their individual wellbeing."
Related Internet Links
The BBC is not responsible for the content of external sites.