Long slow road to university access for poorer students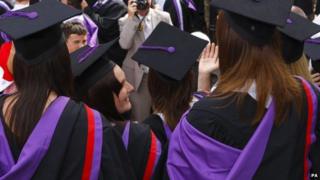 Much of the discussion of social mobility and access to "top" universities is limited to consideration of the picture in England. This represents the higher volume of students and institutions involved, but also in part because of the concentration on - some might say, obsession with - access to Oxbridge.
However, in reality higher education funding and policy, to a greater or lesser degree, is devolved to the Scottish, Welsh and Northern Ireland administrations. And the differences can be revealing.
For a full picture of social mobility and universities across the UK we need to look at these parts separately. This is a live topic with Universities UK in a paper published this week. It emphasises the need for less regulation in the whole UK sector generally, and has specifically called for the absorption of the Office for Fair Access (Offa) into the Higher Education Funding Council for England HEFCE.
Fortunately, the University and Colleges Admissions Service (Ucas) operates across the UK and provides useful annual comparative data.
The entry rate for disadvantaged 18-year-olds to higher-tariff providers, such as the Russell Group, has increased in England, Scotland and Wales every year since 2011. And there was a record-breaking intake in 2014.
Excluding Northern Ireland, access by poor students to selective universities increased by over 10% proportionally in 2014. By contrast, in Northern Ireland the entry rate decreased by 0.3 percentage points to 1.1%.
Volatile
It is important to note however, that the absolute numbers involved are small and therefore minor variations can lead to eye-catching percentage rises or falls. And the figures themselves are volatile year on year.
The ratio of admissions to selective universities of rich to poor also varies by country. In Northern Ireland a well-off 18-year-old is seven times more likely to get access to a selective university than a less well-off youth.
This ratio is 4.5 in Scotland and 5 in Wales. In England, the entry ratio has fallen from 9.2 in 2006 to 6.2 in 2014. Overall the ratio has been falling across the UK. But some say not it has not been falling fast enough.
So what are the stories behind the statistics across the UK? What are universities doing about becoming more inclusive? What progress are they making?
---
SCOTLAND
North of the border, the Scottish government has taken a more interventionist approach to inclusive admissions than in England. Unlike the access agreement each university in England has with Offa, in Scotland each university has an outcome agreement with the Scottish government, with negotiated admissions targets linked to funding as part of a financial memorandum.
This has supported around £30m of access initiatives. There has been widespread resistance by universities to this arrangement but the experiment is being watched from Whitehall with great interest.
Scotland's challenge on access is distinctive. With more world-class universities per head of population than any other country in the world except Switzerland, it also has 20% of its one million children living in poverty, the highest percentage in the UK.
According to research by the Milburn Commission, half of senior Scottish judges were educated in private schools, compared with just 5% of the overall population. Additionally, poor young people are half as likely to get five good Highers than advantaged peers.
With no tuition fees payable in Scotland for Scottish-domiciled students, there are no loan repayments to act as a potential deterrent. But in England the £9,000 repayable fee does not seem to have deterred 18-year old students either.
An important part of the Scottish set-up is the large number of students studying the first part of their degree in a further education college and then transferring ("articulating") to a university to complete the course.
This has long been identified as a key device to support access for disadvantaged groups with numbers on this route increasing from 3,660 to 4,199 in 2013. Some argue that not all these students are picked up systematically through the Ucas system, so the degree of social mobility in Scotland is underestimated.
Controversial index
Part of the data debate here is around the controversial Scottish Index of Multiple Deprivation (SIMD40), which identifies those living in the 40% less well-off postcodes. There is an argument that this oversimplifies the pattern of deprivation in Scotland's geographically large postcodes. In any event, the rate of participation of this group grew slightly from 28.6% to 29.0% in 2012-13.
However, Scotland's two Russell Group universities have been active in seeking to improve the rate of participation. At the University of Glasgow, the number of participants on the university's Top-Up Programme has risen by 20% to around 1,500 school pupils in 2013.
Running from November to April, the scheme involves 10 school-based and one university-based session. Potential applicants attend a university lecture, seminar or science lab session, and a student life workshop. The scheme has been running since 1999 and claims significant success.
Edinburgh University similarly has a long-standing Pathways to the Professions programme, which supports access to professions traditionally low on inclusion such as law, medicine, veterinary medicine and architecture.
Over 600 pupils aged 15-18 from around 50 schools in Edinburgh and West Lothian are engaged at any one time. Priority is often given to those who are the first in their family to attend university. In some cases lower conditional offers are made to applicants who are excelling at less well performing schools. In 2013, 22 of the 64 applicants for medicine coming through the scheme successfully enrolled for the degree, which compares favourably with students outside the programme.
Reflecting the political significance of social mobility, addressing access barriers was a feature of the Universities Scotland submission to the post-referendum Smith Review emphasising the complexities of meshing devolved and non-devolved powers.
It said: "The potential loss of housing benefit (and council tax reduction) can be a significant barrier to people in social housing who are wanting to enter higher education but who would face substantially increased costs if they did so…Without prescribing a particular solution, it would be useful if a new devolution settlement gave the Scottish Government the power to review the interaction between the benefits system and student support and develop consequential improvements to the benefits system in the interests of social justice and individual opportunity."
Mixed views
Universities and education leaders have mixed views about the new Curriculum for Excellence (CfE) for three to 18-year-olds introduced by the Scottish government. Supporters say it gives schools more flexibility but local authorities have considerable discretion on how it is introduced. Anxieties have been expressed that it means an extra burden for teachers and there have been concerns about the robustness of the marking schemes.
Pupils emerging from this new scheme will be applying for university entry in 2016-17 with a small number in 2015-16. Some universities such as the University of Glasgow have issued special guidelines to address the uncertainty and minimise risks in recognising the new arrangements in line with traditional university entrance criteria.
---
WALES
Changes to school curricula have also been highlighted as a potential barrier for less well-off Welsh pupils wishing to access top universities.
In 2014 a total of 105 students from Wales were accepted at Oxford and Cambridge - down from 144 five years earlier. Explanations for this have ranged from alleged low self-esteem, lack of academic self-confidence, a decline in A-level performance and a perceived lack of "stretch" in the Welsh Baccalaureate launched in 2007.
In response, a series of university access support hubs are to be set up by the Welsh government, initially covering Swansea, Flintshire, Wrexham, Merthyr Tydfil and Rhondda Cynon Taff.
Universities Wales, which represents all eight universities in the country, points out that a higher proportion of poor students attend university compared to the UK as a whole. In 2014, around 92% of young full-time undergraduate entrants to Welsh higher education were from state schools or colleges - greater than the UK average.
Communities First is the Welsh government's flagship programme designed to improve the living conditions and the prospects of people in its most disadvantaged communities. Students from these communities are increasing year on year at Cardiff University, Wales' only Russell Group university, up from 1,550 to 1,821 in 2013.
Cardiff University's main access programme is the Step Up to University scheme which involves campus events, e-mentoring, academic taster sessions and residential summer schools complemented by personal development, skills and confidence development.
The university uses contextual information about applicants' backgrounds which can trigger a guaranteed interview or guaranteed offer, but not at a lower level than for other applicants from traditional backgrounds.
---
NORTHERN IRELAND
In Northern Ireland the overall participation rate of 44% is the highest across the UK for under-19s. However, unlike in other parts of the UK, the participation rate of the poorest applicants fell 0.3 percentage points in 2014 to 1.1%. In Northern Ireland a rich applicant is seven times more likely to get to a selective university than a poor applicant. However, this must be set against the longer downward trend since 2007 when the ratio was nearer 11 to 1.
The only Russell Group institution here, Queen's University Belfast has set up an 'academy' system, whereby 50 places are available in 2015/2016 for young people who are the first in their family to attend university or who meet other criteria for social disadvantage.
The Senior Academy supports students who have academic potential, irrespective of social background. The two-year programme supports young people from non-selecting school sixth forms and further education colleges. They run activities aimed at preparation for university life, including academic skills workshops, lectures and seminars.
---
The distinctive cultures, constitutions, politics, education and funding systems of different parts of the UK are an integral part of the richness of the UK university system.
However, overall, despite these differences across all parts of the UK, the picture is essentially one of slow but steady progress to a more inclusive system at all levels.
Universities continue to put significant effort and investment into broadening access, but are reluctant to subscribe to any scheme which removes their control over their own admissions.
There is no doubt access to universities is becoming fairer and more inclusive.
No-one doubts that progress is being made, but the dividing issue is whether enough progress is being made fast enough, for enough people, in enough universities.