Labour pledges Sure Start centre boost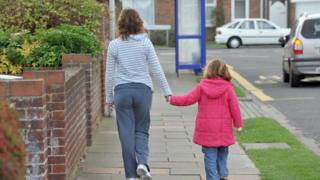 Sure Start centres to help children in deprived areas would be expanded again under a Labour government, shadow education secretary Tristram Hunt says.
He said the party, which launched Sure Start in 1998, would create 50,000 new places and the centres would be run by charities or childcare companies.
It would reimpose a requirement on councils to provide childcare via Sure Start, reversing a coalition decision.
The Conservatives said Labour was making unfunded spending commitments.
Mr Hunt told BBC1's Andrew Marr Show that Sure Start was "about poor kids in disadvantaged communities getting the best start in life".
He said there were a "lot of mothballed facilities" and these public buildings would be opened up to outside providers.
While Mr Hunt did not give any figures, he pledged Labour would not follow the Conservatives by "inflicting" a 10% real-terms cut to the schools budget.
He also told Andrew Marr about Labour's plans to improve "wrap-around childcare" by opening up breakfast clubs and after-school clubs to charities and private childcare providers.
'Outright closures'
Sure Start was set up by the Labour government to give parents of pre-school children aged under five family and health advice.
According to Labour there are 720 fewer Sure Start centres than in 2010, while many more are running reduced services.
Research by the 4Children charity suggested Labour's policy could double the places provided through Sure Start to 118,000.
The charity has also said 1,100 centres could provide additional places if given extra support or direction.
Anne Longfield, chief executive of 4Children, said: "There is a well-recognised shortage of high quality childcare places in areas of disadvantage which children's centres are clearly able to respond to.
"We urge local authorities to examine the potential for more childcare places in children's centres and work with partners to deliver them."
The requirement on centres in disadvantaged areas to offer childcare was removed by the government in 2010.
Research published this month from the London School of Economics and the universities of Manchester and York found real spending per child on early education and childcare and Sure Start services fell by a quarter between 2009-10 and 2012-13.
The Conservative Party disputed the figures, saying there had been 45 "outright closures" of centres, with managements being merged in other cases, and said funding had been maintained.
A spokesman said: "Once again Labour are shaking the magic money tree to pay for unfunded spending commitments. That's exactly how Labour got us into a mess in the first place.
"Hardworking people will pay the price for Ed Miliband's chaotic ill-discipline through higher taxes, more borrowing and more debt."