Top university 'not a destination for many schools'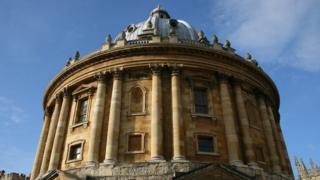 Hundreds of schools and colleges in England do not send any students on to the UK's top universities, data shows.
Figures suggest more than 1,600 did not have any pupils going to Oxford or Cambridge and about 335 sent none to a Russell Group university.
Students from private schools were more likely to go to a leading university.
The Department for Education data shows the "destinations" of pupils at more than 2,000 state and fee-paying schools and colleges for the year 2012-13.
The figures also indicate 185 did not have any pupils who went on to what the DfE calls a "top third" university - those institutions that demand the highest A-level or equivalent grades.
Just under half of students from state-funded schools and colleges went to university, the DfE's figures show, down from 53% the year before.
The government statisticians says this may reflect the drop in students studying for a degree in the year tuition fees were trebled to a maximum of £9,000 per annum.
The statistics suggest the vast majority of schools and colleges in England educating pupils aged 16 to 18 saw at least some take up a place at a higher education institution.
At almost 100 schools and colleges, at least 80% of students got a university place.
Overall, about seven in 10 state-educated young people were in education, employment or training the year after taking their A-levels or equivalent qualifications. Of these, 63% were in education.
Private premium
According to the data, pupils from private schools are outperforming their peers educated in the state sector.
Of the 48% of students from state-funded schools and colleges who went to university, 16% were at a "top third" institution, with 1% at Oxford or Cambridge and 11% at a Russell Group institution.
In comparison, 60% of privately educated pupils went on to study for a degree, with 46% going to a "top third" institution.
Of these, 5% were at Oxford or Cambridge, while 37% were at a Russell Group university.
Separate statistics tracking the destinations of teenagers at age 16 show that 91% of pupils were in education, employment or training after completing their GCSEs, up from 89% the previous year (2011-12).
'Extremely valuable'
Schools Minister David Laws said: "It is crucial that parents have access to the information that lets them judge how well schools and colleges are preparing young people for the future.
"Today's data show many examples of schools - including those in the most deprived parts of the country - which are ensuring their pupils are moving on to meaningful destinations.
"The figures are hugely satisfying, with thousands more pupils going on to further education, training or employment - showing the significant progress this coalition government has made in building a fairer society.
"At the same time there are some schools which could be doing more to make sure all their pupils can get on in life, and today's data will be extremely valuable in helping hold those school leaders to account."