Graduate job rise 'good news for school-leavers'
By Judith Burns
Education reporter, BBC News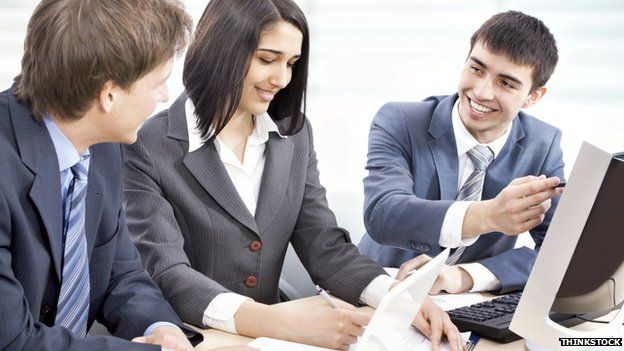 Leading firms will offer school-leavers more opportunities as the graduate jobs market picks up, a survey suggests.
Almost three-quarters of 201 companies that responded to the Association of Graduate Recruiters survey said they were hiring more school-leavers.
They offered 21,682 graduate vacancies in 2013-14, a rise of 4.3% on 2012-13 and expect an 11.9% rise this year.
And this increased competition for graduates has led many to consider employing and training school-leavers.
The strongest jobs growth for graduates is in the IT and telecommunications sector, where there are predicted to be 26.9% more vacancies.
There are expected to be 23% more graduate vacancies in the public sector and 22.1% more in construction.
However, falls are predicted in graduate recruitment in other sectors, including utility companies and business consulting.
Despite there still being an average of 74 graduates competing for each position, some sectors are struggling to recruit.
Just under half (44.8%) of the companies surveyed had one or more unfilled vacancies, with a total of 1,422 jobs empty.
The worst affected sector was IT and telecoms, with 11.8% of graduate roles unfilled.
Employers report 14.4% of graduates with job offers turned them down last year - a higher rate than expected.
Others say they are struggling to find individuals with the right technical and professional skills.
"The required standard of technical graduates remains high, and as a result of increased competition, the standard of applicants has decreased on the whole," one IT sector employer told the researchers
"Within our organisation we cannot decrease the high standards that we require.
At the same time the proportion of employers planning to offer opportunities to school-leavers has risen to 72.7%, compared with 68.2% last year and 54.7% the year before.
Most (51.7%) were planning to offer apprenticeships, over a third (34.2) work experience and 13.6% to offer sponsorship through university or incorporate a degree into other training.
About two-thirds said they had established relationships with schools in order to boost recruitment.
"Competition at graduate level is probably a large incentive for many to go into schools - growing your own, rather than paying a premium to compete and attract at the graduate level is a viable alternative," said one employer.
AGR chief executive Stephen Isherwood said: "More employers engaging with the schools market is a good thing. It means employers are thinking more holistically about their talent strategies. It also means a greater variety of opportunities for young people."
Mr Isherwood, however, noted graduates were still more likely to be employed than non-graduates and stressed the importance of work experience.
More than a quarter of graduate roles are filled by people who previously held an internship or placement with the same employer, suggests the survey.
Related Internet Links
The BBC is not responsible for the content of external sites.