A third of siblings in care 'forced to live apart'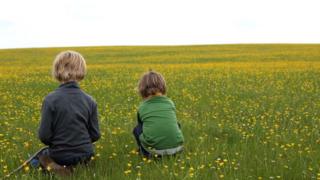 More than a third (37%) of children in care in England who have siblings are having to live apart from any of them, suggests research by a charity.
The Family Rights Group (FRG) found almost half (49%) of sibling groups in local authority care had been split up.
It said separating siblings could have "lifelong consequences".
The Local Government Association said the figures showed social workers were keeping siblings together in the vast majority of cases.
The FRG sent Freedom of Information questionnaires to all England's 152 local authorities last August. Some 122 responded, with about 100 providing detailed answers.
Children living in residential homes or with unrelated foster carers fared worst in terms of being placed with brothers and sisters. Almost three quarters of them were separated from their siblings.
In contrast only 8% of children fostered by relatives were split from their siblings - and only 5% of children put up for adoption.
Best option
The report authors say the law places a duty on local authorities to place siblings together, so far as is reasonably practicable, and is based on "a clear presumption that this is generally the best option for children going into public care".
However they accept there are occasions when siblings are separated for their own welfare.
They say the decision on whether to place brothers and sisters together is "of vital importance" as they can provide each other with "a great deal of reassurance" in their first days in a children's home or with an unfamiliar foster family.
Foster carers "may have no previous knowledge of what food they like, what are the things that scare them and whether they have a particular soft toy at bedtime", while some children's homes "can seem scary or overwhelming".
The authors want councils to
make greater efforts to keep siblings together, unless contrary to an individual child's needs
provide more support for separated siblings to keep in touch, including overnight stays
publish regular data on siblings in their care
promote and support foster placements within the wider family group
'Tremendous commitment'
The Local Government Association said councils were doing everything they could to ensure children were placed in the right home.
"The latest national figures show that social workers are able to keep siblings together in the vast majority of cases but there are instances when it may be in a child's best interests to be placed separately from their brothers and sisters," said a spokesman.
He said large sibling groups, of three or more children, were particularly hard to place together, requiring "a tremendous commitment from those we ask to care for them".
"Finding loving homes for children who need them is an incredibly difficult job, and social workers will consider all possibilities before making a decision on the best placement.
The LGA says placing children with friends and family is not always possible. Most children in care rely on love and support from unrelated foster carers.
The spokesman said councils were urging people to come forward as foster carers, particularly to help larger groups of brothers and sisters.
A Department for Education spokeswoman told BBC News more government money to test innovative approaches to recruitment and streamline the approval process had resulted in a 6% increase in foster carers.
"We absolutely agree that siblings should be placed together in a stable and loving home whenever possible," she added.