Tech firms support computing lessons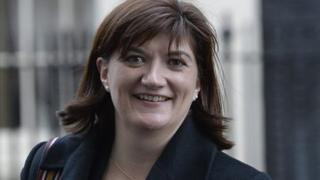 Technology giants such as Google and O2 are to support a £3.6m drive to teach computing skills in primary schools in England, Education Secretary Nicky Morgan has announced.
Experts from the firms will help with training and providing resources to teach digital skills in the classroom.
Schools should be better connected to technology firms, says Mrs Morgan.
"A significant number of jobs will be in the tech industry," she told the BETT educational technology show.
The education secretary announced a series of projects involving schools, universities and businesses to support the computing curriculum.
Mrs Morgan told delegates that innovation in technology was part of the "pioneering spirit" of school reform.
She also suggested that technology could be used to give parents more information about schools - such as online assessment helping to show parents what their children were achieving.
This could be developed to show how qualifications were linked to future earnings, Mrs Morgan suggested.
University training
Introduced into schools in September, the computing curriculum teaches skills such as writing code. And Mrs Morgan acknowledged that some teachers would want more help with teaching the subject.
The Department for Education has offered £3.6m in matched funding to develop computing lessons.
Much of this funding has already been announced and allocated to larger schemes which are already running - and Wednesday's announcement will add some extra projects.
Mrs Morgan, speaking at the annual BETT Show in London, will welcome the support of "top industry experts".
"We are committed to supporting tech companies to connect with our schools - preparing young people to succeed in the global race.
"Increasing the focus on subjects like computing is a key part of our plan for education - which is why we are investing in the latest training and support so our teachers are fully prepared to plan, teach and assess the new computing curriculum."
The projects announced by Mrs Morgan will include a university consortium, including Queen Mary University London and Hertford College, Oxford, which will work with Google to produce training materials for teachers to develop "computing-related thinking skills".
O2 Telefonica is to support a peer-to-peer training scheme to help teachers with the computing curriculum.
Oxford Brookes University is to develop an online training course - a so-called massive open online course (Mooc) - for primary school teachers.
Our Lady's Catholic High School in Preston will work with the Raspberry Pi Foundation to support other schools with computer lessons.
The Department for Education has previously announced a range of projects to support the new curriculum, drawn from this funding for computing lessons.
The British Computer Society was given £2m to build a network of 400 expert teachers to train other teachers and the Computing at School project received £1.1m.
Missed chances
Labour's shadow education secretary Tristram Hunt will also be speaking at the educational technology show.
He will warn that "tired old snobberies" about technical education are undermining efforts to develop a digital economy.
Mr Hunt will say that the UK is at risk of slipping behind other countries because it has failed to create a successful path for vocational training.
"The digital revolution represents a moment of incredible opportunity for this country," he will say.
"But we are failing to capitalise on this moment. A failure to reform our secondary education system to provide a high status, high quality route in technical and creative education, combined with tired old snobberies towards technical and creative learning that are reminiscent of the 1960s."
"We are wasting the talents of too many young people - limiting their horizons - and costing our economy," he claims.
Labour wants to create "gold standard" vocational qualifications for 14-19 year olds and introduce technical degrees.