A-levels: Schools uncertain over choices, says Ucas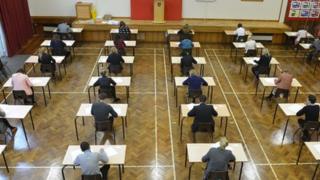 Many schools have not decided what sixth-form courses they will teach later this year when exam changes come into force in England, university admissions service Ucas says.
From September AS levels, the first year of A-levels, will be split off and will not count towards the final grade.
Half of 500 schools that responded to a Ucas survey plan to offer AS levels. A fifth said they did not yet know.
The government says changes mean pupils will study subjects more deeply.
But Cambridge University, leading public schools, and head teachers' union the Association of Schools and College Leaders have all called for the AS level to remain.
Universities say that, because A-level results are not available until after degree course offers are made, AS level results are a useful indicator of how well pupils will do.
However, ministers have argued that universities learn little more from knowing teenagers' AS-level results in addition to GCSE grades, and insist that the reform should not affect university admissions.
In a report, entitled Unpacking Qualification Reform, Ucas chief executive Mary Curnock Cook says there is a "high level of uncertainty and anxiety amongst schools and colleges, and a wide range of responses to the A-level reform".
She adds: "From a university admissions perspective, the highest-profile change to qualifications is the decoupling of the AS from the full A-level.
"Responses to this survey paint a picture of a high level of uncertainty and anxiety amongst schools and colleges, and a wide range of responses to the A-level reform.
"Only half of schools and colleges who responded to the survey are planning to offer AS qualifications in all reformed subjects that they offer from 2015."
'Deep understanding'
She also says secondary schools are looking to universities and colleges to explain clearly how they will manage the changing qualifications landscape.
"Some universities have already produced qualification reform statements, expressing their commitment to be flexible and work with schools and colleges during this transition."
She urged all all universities and colleges to do the same.
The Department for Education said: "As part of our plan for education we want students to be given the time to study subjects in detail to develop the deep understanding that will prepare them for life in modern Britain.
"By decoupling the AS level from the A-level, we are ending the routine of automatic, external assessment of students at the end of year 12.
"Removing this unnecessary burden from teachers and students means young people will have more time to study the fundamental concepts of a subject rather than sit through an endless treadmill of exams.
"Students will still be able to sit an AS before deciding whether to take a subject at A-level, but will no longer be required to do so by the government. Instead, the decision will lie with students and teachers."