Record numbers graduate with first-class degrees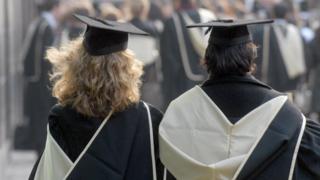 Record numbers of UK students graduated with a top degree last summer, according to new figures.
Some 20% of graduates achieved a first-class degree in 2014, while 51% got an upper second, suggests data from the Higher Education Statistics Agency.
Nicola Dandridge, chief executive of Universities UK, suggested students were "working harder than ever".
But a new system was needed to allay fears of grade inflation, added Ms Dandridge.
Some 79,440 of graduates gained a first in 2014 - nearly 10,000 more than in 2013.
'Blunt instrument'
The number of firsts has more than doubled in the decade since 2004, when about one in 10 graduates achieved the top classification.
It is also 70% more than five years ago, when 48,825 graduates got a first.
A new system, the Higher Education Achievement Report (HEAR), is being investigated by some universities as a way of giving students a more detailed record of their achievements alongside their final-degree classification.
"With changes to the student funding system and increased graduate contributions, there is evidence to suggest that students are working harder than ever to get their degree results," said Ms Dandridge.
"However, the sector has recognised for some time that the current degree classification system is a blunt instrument, hence the trialling of the Higher Education Achievement Report and grade-point average system at a number of universities.
"The aim is to provide a more detailed account of what a student has actually achieved during their studies, rather than just a one-off degree classification."
The figures also show the number of first-year full-time undergraduates has bounced back after falling in 2012-13, the year the government trebled tuition fees.
However, there is concern about an ongoing fall in numbers of part-time students for both undergraduate and postgraduate degrees - with part-time enrolments continuing to fall last year despite the recovery in full-time numbers.
The fall is particularly sharp among UK-based part-time undergraduates, with 162,485 enrolling at university for the year 2013-14, compared with 185,240 the year before and 314,770 in 2009-10.
"It is encouraging to see some stability returning to full-time student numbers following volatility over the last couple of years.
"However the continuing decline in the number of part-time students is a concern and must be looked at in the context of the current funding and fees system," said Ms Dandridge.
The National Union of Students called part-time study "a crucial part of our higher education", adding that "sky-high fees and unmanageable debt" were "having a devastating effect on the future of flexible and lifelong learning".
"The government has had years of warning to deal with this issue. Yet another year of falling numbers reveals a dangerous complacency," said NUS vice-president Megan Dunn.
'Rethink'
Sally Hunt, general secretary of the University and College Union, called for an "urgent rethink".
"The people who benefit from part-time study are often mature students with existing family and work commitments.
"Too many people are being priced out of university because they don't want to saddle themselves with massive debt to fund their study or pay back their fees."
Ms Dandridge also expressed concern about a 12% fall in the number of Indian students at UK universities and a 7% fall in those from Pakistan, amid suggestions they are choosing to study elsewhere because of changes to student-visa rules and anti-migration rhetoric.
Overall, however, numbers of international students from outside the EU rose by 3% last year.
The Department for Business, Innovation and Skills said the government recognised the importance of part-time higher education "particularly in supporting individuals who need to reskill or upskill".
"There are often more flexible ways for students to undertake a full-time course and there are more people in the population who already have a degree, so the number of more mature learners is decreasing.
"This decline should also be seen in the context of the growth in the total number of UK and overseas entrants to higher education, confirming the UK's world-class reputation in higher education," said a spokesman.