One step away from homelessness at Christmas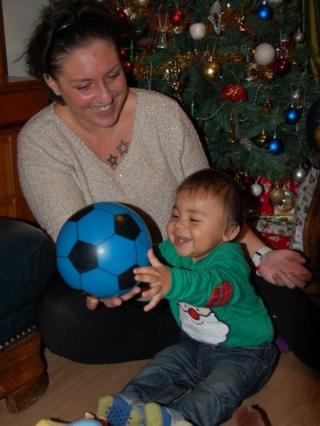 As the number of households in temporary accommodation reaches a five-year high, one family describes their experiences.
It was baby Nester's first birthday on 11 December.
This time last year, he and his family were awaiting eviction from the flat his mother and brothers, aged 10 and 12, had lived in for six years.
They were living out of boxes, not knowing when the court process might end and they would be homeless.
"I hated it. Whenever we needed anything we had to search through the boxes," says 10-year-old Alex.
The boxes were piled in the living room of the family's east London flat, leaving them very little space.
"In the end, we hid all the boxes under a white sheet to make it look like a snow mountain and put our decorations around it," says mum Samantha.
The family had been packed since June 2013 when their previous landlord gave them notice to quit but it took until February this year before they were evicted.
Suitcases
The local council's housing office told Samantha to wait for the court process and then come in with her suitcases.
"They made it sound so simple, like I was going to come out of my house and I would be put somewhere."
In fact, what happened was far from simple.
Samantha had been advised to arrive early in order to get the best accommodation available that day.
She was still on maternity leave from her job in customer services with a small credit provider so she took her baby, then barely three months old, to the housing office as soon as it opened.
"We sat there all day but we didn't get seen until half past three and the place closes at four," she remembers.
The only place the council could find a three-bedroomed flat was in Birmingham.
Samantha turned it down.
"I said, 'I've got a job here, my children's schools are here, I've just had a baby. All my family support, my connections are here, everything.
"I need to be in London. I can go out a bit but it needs to be London. How can I work otherwise?'"
Bed and breakfast
But the council viewed this as a refusal of accommodation and sent her and her boys to two bed-and-breakfast hotels, which, Samantha says, also accepted residents with drug and alcohol problems.
She says neither was suitable for a young family.
"The place was filthy," she says of the first.
"The carpet was threadbare. It looked like it had been urinated on all over. There were cockroaches."
At the second, she says: "Everything was falling apart, nails sticking out everywhere. The floors were revolting. The beds were disgusting.
"I couldn't. I would rather lay my baby down on the concrete in the street than in those places they were sending me."
The council offered Samantha a flat in Hertfordshire but again this was too far away from schools, work and family.
The council said they could no longer help her as she had refused too many properties.
So she went to her mother's flat in Canning Town and spent the next five months camping on blow-up beds in the tiny living room with her three sons.
"At my mum's it was horrible. We were really stressed. We were all on top of each other.
"It was such a distressing and unsure time.
"I felt so incapable you know, of being a proper mother, of providing for my kids.
"We always had comfort. I did my best. I'd gone to work and we had a nice house."
'Supportive'
The boys were having to do their homework on the floor of the living room, among the blow-up beds - and Samantha knew her mother, used to her own space, was finding it hard to cope with losing the use of her living room, sharing her kitchen and having noisy company every night when she came back from work.
"She started to get a bit annoyed because of the noise.
"We were all confined in one place.
"It's not like we got upset with each other but I knew I was invading her privacy. I knew how she was feeling and she understood how we were feeling."
In July, someone suggested Samantha contact the Stratford office of the housing and homelessness charity Shelter.
She describes them as "really, really supportive".
They wrote a letter to the housing office on her behalf pointing out their treatment of the family was not legal.
She took it down there that day. The council said they would house her and the same day found her a three-bedroomed temporary flat very near her children's schools.
"It's lovely. When I first saw it I thought it was quite small but it has such a lovely feeling to it and I really like the area. I love it, to be honest," says Samantha.
"I've got my own room and we've got more space and we can relax and we don't have to worry about making a noise," says Alex.
The family: Samantha, Nester, Alex and older brother Boris moved in July and are spending Christmas in their new home.
They are not entirely out of the woods - Samantha's employers closed down and she was made redundant.
Recently estate agents have been in touch asking to show prospective buyers round the flat, saying the owner wants to sell though she has heard nothing directly from him.
Samantha has considered looking for a flat privately rather than through the council but the price is now beyond her means.
Removals
She also had to spend most of her savings of about £2,000 on removals and storage.
So she has again contacted Shelter and the council, hoping that 2015 will not see a repeat of her experiences in 2014.
"It was too much on us all to expect us to cope. It was too upsetting and unsettling. I am really hoping they will find us somewhere permanent this time.
"Nothing is going to happen this side of Christmas."
A spokeswoman for Shelter said Samantha's story illustrates how easy it can be for a family to be pushed into homelessness and the emotional distress this can cause.
Samantha believes she has been relatively lucky.
Without Shelter's intervention, she says she would still be sleeping on her mum's floor - "and if it wasn't for her we'd be on the street".