Minister 'working on' poor pupil funding conundrum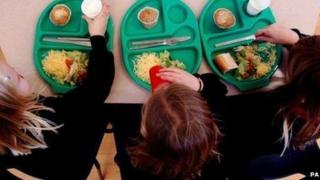 Ministers are "working on a solution" to avoid a drop in school funding for disadvantaged pupils because all England's infants now get free meals.
Pupil premium funding, worth £1,300 a year for each disadvantaged pupil registered, used to be tied to the number of pupils on free school meals.
But now low-income parents are required to register separately.
Schools Minister David Laws says he is working on a way of automatically identifying those who qualify.
He said he was "confident" the free school meal scheme could be delivered without any adverse effect on pupil premium funding.
He added: "There is no way we're going to allow that policy to be undermined, I can assure you of that."
It comes as figures show an extra 1.3 million pupils are eating school lunches since they were made free for all infant children in September.
Incentives
Deputy Prime Minister Nick Clegg said 85% of the total infant school population were now eating healthy school dinners free and that this was saving families £400 a year.
But concerns the new scheme means some schools are losing out on extra funds aimed at poorer pupils have been raised by head teachers.
Some schools have been giving away iPads or school fleeces to encourage poorer parents to register, so they continue to receive this extra "pupil premium" funding.
The representative for school business managers at the National Association of Head Teachers, Nicky Gillhespy, said: "There's quite a lot of evidence from around the country that parents just aren't taking the time to register because they don't have the incentive to do so because of the universal free school meal."
She said the numbers registered had significantly decreased.
'Healthy boost'
"The message is that we really need parents to register because without this funding the children really will be missing out," she said.
Head teacher Mike Lovett said Tweeddale Primary School, in Sutton, had lost an estimated £26,000 in pupil premium funding since the introduction of free meals for infants.
"That could be used to employ a part-time teacher or a learning assistant," he said.
Speaking on BBC Radio 4's Today programme, Mr Laws said: "We're working on a medium-term solution which would remove the bureaucracy we've had going back for years and years where parents have had to sign up for free school meals where there's often been a stigma in doing so so a lot of them haven't done that.
"Actually it is sensible to have a data sharing arrangement in Government so we can automatically identify these people so there is no stigma about allocating the money.
"We're working on that now but in the short term I don't believe this is going to be a problem and we're working very hard with local authorities and schools over that."
Official figures on the take-up of the pupil premium since the introduction of free meals have not yet been released by the DfE.