Free school meals 'for 85% infants', says Clegg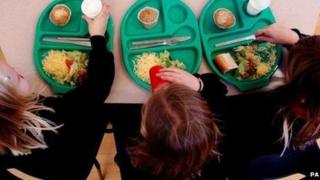 An extra 1.3 million pupils and 85% of infant children in England are eating a free school lunch, the government says.
Deputy Prime Minister Nick Clegg says this is saving families £400 a year.
But there are concerns the scheme means some schools losing out on extra funds aimed at poorer pupils, whose families now have to register separately.
Some schools are said to be giving away iPads to encourage poorer parents to register, so they continue to receive this extra "pupil premium" funding.
Parents on low incomes or benefits used to have to register for their infants to receive free school meals - and schools automatically received pupil premium funding, worth up to £1,300 per pupil per year, tied to these registrations.
Incentives
Now parents have to register separately in order that their children's school gains the extra government funding.
Mr Clegg told the BBC in an interview that there was not a problem with pupil premium funding registration.
But representative for school business managers at the National Association of Head Teachers (NAHT) Nicky Gillhespy said: "There's quite a lot of evidence from around the country that parents just aren't taking the time to register because they don't have the incentive to do so because of the universal free school meal.
She said despite some clear extra incentives, such as schools offering parents iPads to get them to sign up for pupil premium, the numbers registered had significantly decreased.
'Healthy boost'
"The message really is that we really need parents to register because without this funding the children really will be missing out," she said.
Head teacher Mike Lovett said Tweeddale Primary School, in Sutton, had lost an estimated £26,000 in pupil premium funding since the introduction of free meals for infants.
"That could be used to employ a part-time teacher or a learning assistant," he said.
During a visit to Hallfield primary school in central London, celebrating the £600m policy, Mr Clegg said: "Well over a million and a half infants are enjoying a school meal at lunchtime, giving them a better start to afternoon lessons and a healthy boost for their first years in school.
"The other good news for families is that this saves them up to £400 per child a year on the cost of a packed lunch."
Official figures on the take-up of the pupil premium have not been released by the DfE.
A spokesman for the Deputy Prime Minister's Office said: "Pupil premium funding is given to all state-funded schools with eligible pupils.
'Extra funding'
"In 2013-14, 19,986 schools attracted funding due to having one or more pupils who had been registered for free school meals at any point in the previous six years."
In the run-up to the programme starting, there had been concerns about the ability of schools to provide the amount of food needed and whether kitchens and catering contractors could cope.
Russell Hobby, general secretary of the NAHT, said: "We started discussions with David Laws and his team right away and they were receptive, bringing in a number of changes to help school leaders, including extra sources of funding.
"NAHT is also talking to the minister of state for schools about his steps to ensure that there is no accidental reduction in the numbers of families signing up for the pupil premium, now that free meals are granted automatically."
He added: "An unintended consequence of the UIFSM [universal infant free school meals] policy could see children losing out on vital funds, which schools desperately need to put towards efforts to raise attainment levels for the poorest children."