Teachers fear for future of Design and Technology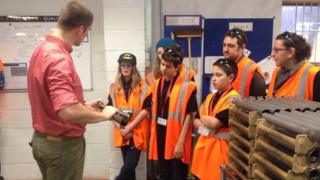 A puncture-proof bike tyre, light-up indicator gloves, a healthy energy drink and an app to find lost bikes - these were the winning designs in the Great British Make Off competition for 11- to 14-year olds.
The brief was to come up with innovations to improve cyclists' lives and develop them with sketches, models and prototypes.
Richard Green, chief executive of the Design and Technology Association, which represents the subject's teachers, said the competition aimed to boost D&T in schools "because it's the only place in the curriculum where practical problem-solving takes place".
Still one of the most popular GCSEs, it was being marginalised by government changes and, without intervention from ministers, may even cease to exist within five years, he added.
Potential profit
There were 150 entries, and the four winners got to perfect their products with the help of top innovators in the field.
Some students definitely developed an eye for potential profit.
"I am not signing anything until I know what my share of the money will be," said Airann, not entirely joking.
Together with team-mates Shana and Paige, from St Benedict Catholic Voluntary Academy, in Derby, Airann developed the Spa Dew sports drink "in a cycling-friendly container".
Top chef Steve Walpole who helped them refine their range of drinks during a "very messy" day in his kitchen, described their idea as "bang on trend".
"If you are looking at it as part of a range from an entrepreneurial point of view, you would get some serious interest," he added.
Design element
D&T became part of the national curriculum in 1989, compulsory for five- to 16-year-olds.
The design element was what made it different from the craft skills previously taught in schools, Mr Green said.
"It is not woodwork, not metalwork, not needlework, and it is not cookery," he said in his speech congratulating the winners.
Pupils worked with the latest materials and technologies - with computer-aided design and manufacturing techniques such as 3D printers, laser cutters and robotics available in some schools, he said.
Ramneek, from Beal High School, in Essex, chose to embed a GPS chip into bike handlebars and design a computer app to track it in case it was lost or stolen.
Her teacher, Lucy Joseph, said Ramneek had really understood the design brief and thought about it carefully.
"It is really important to have the maths and science knowledge but also the creativity as well in order to be able to deliver the actual product for people to use," she said.
"This country is trying to bring back design and manufacturing here instead of doing it elsewhere, so I guess it's our job as teachers to bring on those designers and technologists."
Mr Green said the emphasis on D&T in schools since 1989 had contributed in no small part to the UK's international success in design, a sector employing some two million people and contributing more than £70bn a year to the UK economy.
'Challenges'
The competition's purpose was to bring out "the inventiveness and creativity" of teenagers in their D&T lessons but also "to highlight the challenges the subject faces", he said.
D&T is not included in the government's English Baccalaureate (EBacc) school-performance measure of good grades in a set of key subjects.
These subjects are maths, English, the sciences and a language, plus history or geography.
D&T had been retained in the new national curriculum but only just, Mr Green said.
At one point there had been fears it might be left out entirely. And now, instead of being compulsory from five to 16, as it had been in the old curriculum, it was mandatory only until the age of 14, he said.
Understandably teachers had been put off specialising in the subject in their initial training, so there was now a shortfall in their numbers of about 1,200, Mr Green said.
Some head teachers still misunderstood the subject, he added, confusing it with the old-fashioned craft subjects it had replaced and had reacted to teacher shortages by cutting teaching time.
The upshot is numbers taking D&T GCSE have dropped from about 450,000 10 years ago to just over 230,000 now.
This is despite skills education being singled out by ministers as vital to our economic future.
Mr Green urged them to "talk the subject up" and make it clear it was among the vital science, technology, engineering and maths (Stem) subjects pupils were encouraged to take.
He said D&T was a useful third A-level for would-be engineering students at top universities, alongside maths and physics.
Computing should not be the only subject regarded as technology, he said.
Mr Green wants the government to ensure it trains enough D&T teachers and gives them enough continuous professional development to keep across new trends.
He said he had recently returned from China, where the cities of Shanghai and Nanjing had invited him to share his expertise.
"They have realised they are not good at developing risk taking, creativity and innovation in students, despite being good at building knowledge," he said.
"They are looking to introduce D&T while it is being marginalised and gradually eroded here. That thought is really quite scary."
Curriculum 'transformed'
Responding, the government said its plan was for schools to teach children "all the skills they need to succeed in modern Britain, including the next generation of successful British designers and engineers".
"We have transformed the design and technology curriculum so children are kept up to speed with the fast-changing technology industry and innovations like 3D printers, laser cutters and robotics," said a Department for Education spokeswoman.
"Pupils will analyse the work of leading designers from the past and present as well as how to make and design products.
"For example, by learning how to incorporate and programme micro-processor chips into products they have made."
More rigorous GCSEs and A-levels in D&T from 2016 could count towards a new performance measure, Progress 8, alongside other academic, arts and some vocational qualifications as well as the Ebacc subjects, said the spokeswoman.
"This will ensure schools helping to produce the designers and engineers of tomorrow are recognised for that success."