Poor pupils narrow achievement gap, league tables show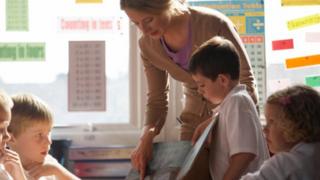 More disadvantaged pupils in England's primary schools are moving on to secondary school able to read, write and add up, official data shows.
Two-thirds of pupils (67%) on free school meals gained a Level 4 in reading, writing and maths this year - up four percentage points on 2013.
This compares with 83% for non-disadvantaged pupils, reducing the attainment gap to 16 percentage points.
The data is based on tests taken by 11-year-olds in 16,000 schools.
Schools Minister David Laws said it was "encouraging to see the attainment gap between disadvantaged children and their peers continue to narrow and parents, teachers and pupils deserve to be congratulated for their efforts".
He added: "But we know there is more to do and there are still too many areas with simply unacceptable levels of attainment for disadvantaged pupils."
The achievement gap between poor pupils and their more advantaged peers has been a persistent problem in England's schools and the focus of extensive efforts by successive governments, teachers and educational programmes.
This year's jump continues the positive trend with the results of the poorest pupils up by six percentage points from 61% in 2012.
The overall results are also up, with 79% of all pupils in England's schools achieving Level 4 in the "three Rs" nationally - up from 75% last year.
The Department for Education (DfE) said this meant an extra 22,000 pupils had achieved the expected level compared with the previous year.
The data also shows primary school results as a whole are improving, with the same percentage reaching new higher standards for whole school achievement.
According to the DfE figures, 768 schools failed to reach what is known as the floor target of 65% of pupils gaining at least Level 4 in formal reading and maths tests, combined with an informal teacher assessment of children's writing abilities.
In 2013, the floor target was 60%. The DfE said that if schools were judged against that standard this year, just 469 primary schools would not have met the standard.
Top areas for disadvantaged pupils gaining Level 4 in reading, writing and maths
Local authority
Percentage
Westminster
83
Camden
82
Greenwich
81
Kensington and Chelsea
81
Newham
81
Redbridge
81
Tower Hamlets
80
Hammersmith and Fulham
79
Islington
78
Lambeth
78
Sutton
78
Level 4 indicates children can spell, start to use grammatically complex sentences and use joined-up handwriting.
In maths, they are able to multiply and divide whole numbers by 10 or 100 and use simple fractions and percentages, among other things.
A total of 693 schools saw all of their pupils achieve Level 4 or better in reading, writing and maths.
The local authorities with the best results were Richmond-upon-Thames, Surrey, Trafford, Greater Manchester, and Sutton, Surrey, where 87% of pupils achieved Level 4 in all three areas.
Luton was the poorest-performing local authority with 70% of pupils meeting the expected target, followed by Rutland (71%) and Poole (72%).
For higher-achieving children, 29% of non-disadvantaged pupils achieved Level 5 (the expected standard for a 14-year-old).
This compares with 12% for children on free school meals.
'Pleasing'
Mr Laws highlighted the impact of the pupil premium on results. This is a mechanism for targeting schools with disadvantaged pupils with extra cash that started in 2011, with the amount rising steadily over the past three years.
Lowest areas for disadvantaged pupils gaining Level 4 in reading, writing and maths
Local authority
Percentage
Poole
53
Cambridgeshire
56
Suffolk
56
Bracknell Forest
57
Central Bedfordshire
59
Herefordshire
59
Norfolk
59
Wakefield
59
West Sussex
59
He said: "We are committed to helping schools do more and have increased the pupil premium they receive per pupil to £1,300 so they have the resources they need."
National Association of Head Teachers general secretary Russell Hobby said: "Narrowing the gap between advantaged and disadvantaged pupils has been an intractable problem. We've been working at this for years and we have struggled.
"It is pleasing to see that this hard work is now coming through."
He suggested the results were testament to some basic groundwork laid down in schools under previous administrations, but said the increased focus on the results of disadvantaged pupils had also had an impact.
NUT general secretary Christine Blower said it was good news to see the attainment gap between advantaged and disadvantaged primary school pupils narrow.
"This is a testament to the hard work and dedication of schools.
"League tables are however a dreadful way of measuring success. By their very nature there will always be someone at the bottom and they do not reflect the differing environments schools operate within."