Schools need support not blame from Ofsted, says head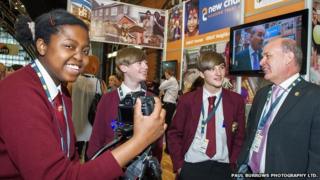 When the New Charter Academy opened six years ago in Ashton-under-Lyne, Greater Manchester, it replaced two failing schools.
It had a brand new building with state-of-the-art sports and computing facilities.
Since then the proportion of students getting good GCSEs in English and maths has risen from 18% to 57%.
But Stephen Ball, principal since 2011, knows there is room for improvement.
He knows because he has a 20-year track record of turning round failing schools, and from experience he knows it will take him seven years to build "an outstanding comprehensive".
He also knows it because Ofsted says so.
The school's most recent inspection, in March 2013, was just 15 months after he took over.
Rating scrapped
Ofsted said the school "required improvement".
So New Charter Academy is not among the 71% of English secondary schools rated "good" or "outstanding" by Ofsted.
Mr Ball says there was "an unreasonableness" about Ofsted demanding excellence so soon after the new team took over.
In an earlier inspection, the school was rated "satisfactory" - but that rating was scrapped by chief inspector Sir Michael Wilshaw in 2012 and replaced by "requires improvement".
The intention was to encourage more schools to push for the higher rating of "good".
But Mr Ball says constant changes to Ofsted's framework and to exam standards "drain energy away from the core task which is teaching and learning".
Staff deterred
In particular, he says, GCSEs have been made tougher so results have "plateaued".
"That's not the fault of the schools - it's a symptom of the way exams have changed."
He says changes to Ofsted's framework have turned it into "a deficit model which seeks out what schools have failed to achieve rather than identifying what they have actually managed to do in terms of improving standards".
At New Charter Academy, 54% of students are eligible for the government's pupil premium payments, which support the education of disadvantaged youngsters.
Mr Ball says Ofsted should do more to offer improving schools like his in deprived areas "a climate of support".
This, he argues, would do more to improve teaching and learning than "constant blame", which he says can only deter staff from wanting to work in challenging areas and add to teacher shortages.