Councils say £22m bill for academy conversions 'unfair'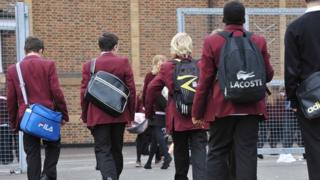 Council tax payers in England have had to pay millions of pounds in costs for schools that have converted to academy status since 2011, research suggests.
Councils have had to meet at least £22m in legal bills and budget deficits, says the Local Government Association.
The LGA says it is "simply not fair" for councils to have to subsidise this "flagship" government policy.
The Independent Academies Association said councils were responsible for running up the deficits.
External advisers
The figure of £22m is based on a snapshot survey of finance directors of 150 local education authorities in England.
About half responded - so the LGA says the total is likely to be higher.
Councils are sometimes required to pay some of the legal costs of transferring schools out of local authority control.
These can include land and legal charges and the costs of external legal advisers and consultants - but not the costs of internal staff time.
Not all local authorities reported incurring such costs but those that did said they had paid out a total of more than £6m in the three years to March 2014.
In addition, if a school becomes a sponsored academy, any outstanding budget deficits are left with the local authority that controlled it before it converted.
Not all local authorities were left with deficits, but the costs to those with deficits totalled almost £16m over the three years, says the LGA.
New academies are allowed to keep any budget surpluses rather than handing the money back to the council.
The LGA says it is unfair that council tax payers should have to subsidise policies imposed by central government when councils are struggling with budget cuts of 40%.
Some councils have also complained they are having to subsidise other central government policies such as free school meals.
"This is yet another example of central government not providing enough money to pay for its policies and of local communities being forced to pick up the tab," said David Simmonds, chairman of the LGA's Children and Young People Board.
Mr Simmonds said the LGA was "supportive" of the academies programme but said the current arrangements were "simply not fair".
"Nor is it right that consultants and lawyers are making good money handling these conversions when local taxpayers expect this money to go towards other local priorities, whether it is improving other schools or fixing potholes."
'Recouping costs'
Nick Weller, chairman of the Independent Academies Association, said perhaps councils should be able to recoup the legal costs of academy conversion from the Department for Education.
"However, if they are paying anything more than a few thousand pounds per school they are being overcharged."
He said operating with a deficit was often a sign of a badly run school.
"If local authorities ran their schools better in the first place there wouldn't be any deficits," said Mr Weller.
A Department for Education spokeswoman said: "Academies are a vital part of our plan for education and transforming the education of millions of pupils across the country.
"The LGA is wrong. Local authorities are only required to cover a school's deficit costs if it has become a sponsored academy after a prolonged period of underperformance.
"This underperformance has almost always taken place while the school was under the control of a council."