New science A-levels won't be delayed, says Nicky Morgan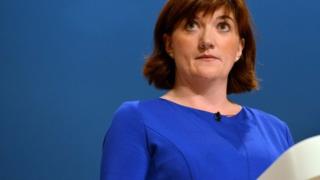 New science A-levels being taught in England's schools from September 2015 will not be delayed, Education Secretary Nicky Morgan has stressed.
Concern was raised about the chemistry A-level after it emerged that it was not accredited by the September target.
This timescale would have given teachers and schools a year to prepare before teaching it in 2015.
Ms Morgan's assertion follows news on Tuesday that reformed maths A-levels would be put back by a year to 2017.
That announcement followed concerns that students would struggle to bridge the gap between the current GCSE maths and the new A-level.
In response, Schools Minister Nick Gibb agreed to defer first teaching of the new maths and further maths A and AS-levels from 2016 to 2017.
Mr Gibb said the delay would give students the benefit of having studied the new GCSE maths syllabus, which starts next year.
Knock-on effect
Appearing before the Commons Education Select Committee on Wednesday, Ms Morgan assured MPs that accreditation for chemistry would be done within weeks.
She was also "confident" that teaching materials, such as textbooks, would be ready in time.
Ms Morgan was quizzed about the potential knock-on effect of the maths delay on subjects such as physics.
Committee member Pat Glass asked Ms Morgan to reveal whether other subjects, such as chemistry or physics, were "red on your dashboard".
"Chemistry is nowhere near being accredited yet," said the Labour MP. "There are some very slow parts of the system.
"At what point do you decide, 'Actually it is not going to happen and we have got to draw the line on this?' Time is pressing. Schools have to be ready."
But Ms Morgan said that she had not received representations about "gaps" between the proposed GCSE and A-level courses in science subjects, in the way she had with maths.
"Maths is it at the moment. I have never been asked to consider any further delays in any other subjects.
"We have always said we will try to get everything into schools at least a year in advance, so they have time to prepare. My understanding is that they are very nearly there with chemistry. We are talking about a matter of weeks."
She added: "On maths, we have listened to those who said the gap between GCSEs and new A-levels was such that we should delay the A-level.
"We haven't had any representations on other subjects on that basis. We would obviously listen if there are any representations, but we are confident that the other subjects are aligned."
Pace of change
Committee chairman Graham Stuart said it seemed "extraordinary" that changes to A-levels were not being held back until after GCSEs had been reformed, given that the lower-level qualifications were intended to prepare pupils for advanced courses.
He said it might have been better to have introduced the changes in a more "coherent" and "co-ordinated" way, saying schools had been put through "a prolonged period of turbulence and uncertainty" not only on exams and curriculums but also accountability systems.
But Ms Morgan defended the "swift" pace of reform brought in by her predecessor Michael Gove.
"The situation we faced, particularly in terms of exams and standards, was serious and there were concerns about grade inflation and how prepared our young children were for the world of work and going to university," she said.
"I don't think my predecessor and previous ministers felt there was a moment to lose in 2010. The seriousness of the situation was such that immediate action had to be taken."