Private school business rate relief warning from Labour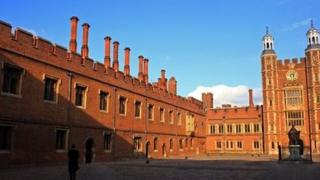 Independent schools could lose millions in business rate relief under a Labour government unless they worked more closely with state schools.
Shadow education secretary Tristram Hunt says many private schools are not doing enough to earn this "subsidy".
Private schools would be asked to help state schools by lending teaching staff and helping with university admissions.
The Independent Schools Council says 90% of its schools already work in close partnership with state schools.
Mr Hunt told BBC Radio 4's Today programme there was an "unedifying divide" between state and private schools in areas such as sport and drama.
He said: "What we want is really effective interaction between the private and state sector in order to spread opportunity and to ensure social mobility grows in this country."
Mr Hunt will say in a speech at an academy in Walthamstow, east London, that the country needs to be be "equal" if it is to "prosper".
'Resounding no'
"If we are to make the most of the wealth of talent that exists in every school and every community, we need to give every child a chance.
"And if we are to be a country which works for most people, we need to break down the divisions in our school system with concerted, collaborative and co-ordinated action from the entire English educational landscape - including the private sector."
He will cite figures suggesting 3% of private schools in England sponsor an academy, while a further 5% lend them teaching staff and a third share facilities.
The figures come from a speech which Ofsted chief inspector Sir Michael Wilshaw made to private school leaders, Labour said.
Mr Hunt will add: "The only possible answer to whether they earn their £700m subsidy [over the course of the next Parliament] is a resounding and unequivocal 'no'.
"Over the last few years we have seen the limitations of asking private schools politely.
"So the next government will say to them: step up and play your part. Earn your keep. Because the time you could expect something-for-nothing is over'."
'1980s view'
The shadow education secretary says he was not intent on penalising private education, just "breaking down the barriers holding Britain back".
Under the plans, independent schools would have to make formal partnerships with a state school or consortium of schools in order to continue to qualify for Business Rate Relief.
If independent schools were not to comply, it would mean they would no longer qualify for business rate relief but it would not interfere with their charitable status.
Barnaby Lenon, chairman of the Independent Schools Council, told BBC Radio 4's Today programme "pointing the finger at independent schools is a 1980s view of education".
He said: "Independent schools are committed to helping widen access to their schools and to improving social mobility.
"Already 90% of our schools are involved in meaningful and effective partnerships with state schools and their local communities.
"Independent schools generate £4.7bn in tax and save the taxpayer a further £4bn, equivalent to building 460 schools, by educating children out of the state school sector.
"Clawing back business rate relief on independent schools seems a very ineffective tool to improve social mobility in any meaningful way."
Anthony Seldon, head of Wellington College said that most independent schools were not wealthy institutions with "long waiting lists and priceless land and buildings".
"Many operate close to the financial edge, and have suffered significantly since 2008. Parents have found it harder to find full fees, while improving state schools, including new academies and free schools, prove ever more attractive.
"A national wave of new grammar schools would kill off many independent schools," said Dr Seldon.