Schools need textbooks not worksheets, says minister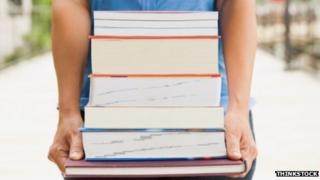 Education minister Nick Gibb has called for the "renaissance" of high quality textbooks in England's classrooms.
Mr Gibb says textbooks have been replaced by worksheets and lesson plans and there is an "ideological hostility" to using them.
He makes the claim in the foreward to a study by education expert Tim Oates.
Mr Oates says though once the envy of the world, the quality of England's textbooks has now slipped behind those used in other high performing areas.
And these nations began their ascent by imitating classic textbooks from England, such as the School Mathematics Project, from the 1960s and 1970s.
In his paper, Why Textbooks Count, Mr Oates, who is director of assessment research and development at exam board Cambridge Assessment, says the fact that high quality textbooks support both teachers and pupils seems to have been forgotten.
'Impacted on standards'
"We've missed the fact that we have picked up some bad habits, and failed to notice the emergence, in other nations, of extremely well-theorised, well-designed, and carefully implemented textbooks," he adds.
Mr Gibb says in his foreward to the research: "Having seen the high quality of textbooks in key nations and examined the way in which they provide support to teachers, the paper concludes that the fact that in England only 10% of students' teachers use maths textbooks as the basis for their teaching compared to 70% in Singapore and 95% in Finland is a contributory factor in England's poor performance in maths compared to those countries.
"Ideological hostility to the use of textbooks, particularly in primary schools, developed in the 1970s. Their replacement with worksheets and hundreds of thousands of bespoke written lesson plans has added to teacher workload, detracted from coherence and impacted on standards."
In his study of 200 textbooks from Hong Kong, Singapore, Finland, Massachusetts, England and Alberta, Mr Oates says England has moved "imperceptibly out-of-sync with these kinds of materials" in such nations and regions.
'Anti-textbook ethos'
He highlights a "narrow instrumentalism" in many textbooks and structured materials in England and suggests they have been replaced with "worksheets".
His study reveals the use of textbooks in class in England is extremely low compared with schools in high performing Singapore and Finland.
And he describes an "underlying anti-textbook ethos", laying it at the door of teacher training and educational research institutions.
He notes that unlike many of the other educational regions in his study, there has been no tradition of "direct state approval" of textbooks in England.
Instead there has been a "chronic market failure" with publishers "effectively" producing textbooks which teachers are demanding.
He does not argue that textbooks should be state approved, as they are in Hong Kong and Singapore for example, but he calls for them to be considered an "integral part of establishing... the policy intentions of a national curriculum".