Academics could end marking ban in pensions talks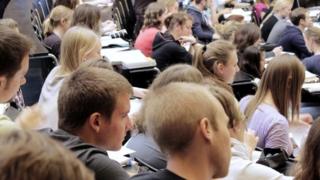 A marking ban by academics angry at plans to change their pensions could be called off next week after the two sides agreed talks.
But at a local level, some staff are threatening to strike if pay withheld during the boycott is not restored.
Sixty-nine universities are affected and some have suspended the pay of staff taking part.
The universities want reassurances that the marking backlog will be made up - while the staff want to be paid.
The marking boycott, which began on 6 November, has meant students have not received exam marks or feedback on coursework.
At a meeting yesterday, the academics' union UCU and the university vice-chancellors association Universities UK agreed a series of negotiating meetings on the pensions issue.
'Partial performance'
The talks will include a meeting with staff from the Universities Superannuation Scheme, which runs the pension.
In a joint statement, the two sides say they have agreed to consult internally "on the prospect of suspending the current industrial action" from next Thursday until after a full meeting of their joint negotiating committee on 15 January.
"The intention of the consultation is to consider whether the parties are able to reach agreement that a suspension of industrial action at this early stage will mean that no member of staff will have had pay deducted and students will not have been adversely affected," says the statement.
"This is on the basis that, at this point, institutions will not have found it necessary to apply their policies to withhold pay for the assessment and marking boycott and that individual members of staff who were participating in the industrial action will have been able to remedy, within a reasonable timescale, any backlog of work that actually resulted from the industrial action between 6 to 20 November."
Some staff who took part in the boycott had all their pay withheld by their employers, who said they would not accept partial performance.
Other universities decided to deduct 25%.
Staff at the universities of Bradford, Liverpool and Surrey have all voted for strike action from Monday, 24 November if their pay is not restored.
At Bradford and Liverpool, the vote is for indefinite strike action, while Surrey staff will stage a five-day walkout.