'Consider medicine' advice to disadvantaged primary pupils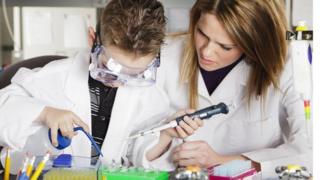 Medical schools should send ambassadors into primary schools to help widen access to the profession from poorer backgrounds, guidance says.
Children as young as seven should learn about medicine as a career, the Medical Schools Council advice says.
A third of today's doctors were privately educated, says the guidance.
"Medicine is for anyone with the ability and commitment," said Prof Tony Weetman, chairman of the committee that produced the report.
This is the first time the council has published guidance on widening access to medicine.
'Tomorrow's doctors'
The medical profession needs to be more representative of the society it serves, it argues.
"Medical students are the doctors of tomorrow, and it is important we ensure that the brightest and best feel and are able to apply to study medicine."
Medical schools are "determined to make a difference to social mobility in the UK", says the document.
The guidance lays out best practice in outreach, which it says should start in primary school.
From the age of seven, pupils should have the opportunity to meet doctors, visit universities and take part in practical workshops, it says.
At this stage, "it is about helping young people explore their interests, challenging stereotypes and jargon busting".
Universities should offer "lively and fun" activities linked to medicine, including roadshows, campus visits and practical demonstrations, the guidance says.
"Medical students acting as ambassadors" are often the best people to lead these activities, says the advice, adding that students who "reflect the social composition" of the pupils should be chosen "to support the sense that university is 'for people like me'".
The advice says support to potential doctors should continue throughout secondary school. In particular pupils should be helped to make the right subject choices.
Universities could also do more to help with applications and personal statements and prepare for interviews and admissions tests.
'Potentially excellent'
Prof Weetman, who chaired the council's Selecting for Excellence Executive Group, said: "A candidate's journey to a medical degree starts long before the Ucas application is made.
"The commitment in terms of hard work and academic achievement is of course essential, but before that must come the awareness that studying medicine is an option.
"That realisation does not come readily to all potential candidates, be they school students or mature learners, and we know that one's background will play a central part here.
"Medical schools cannot leave potentially excellent candidates to learn this message on their own. They have a responsibility, where possible, to reach out to these people and show them first-hand that a career in medicine is for anyone with the ability and commitment."
Prof Les Ebdon, director of Fair Access to Higher Education, which collaborated on the guidance, said it was "a major development in helping to improve access to the elite medical profession".
"Going to medical school opens the door to a career in a rewarding, high-status profession and that door should be open to everyone who has what it takes to be an excellent doctor, regardless of their background."
In particular Prof Ebdon highlighted the importance of "sustained, targeted schemes to raise aspirations and attainment", starting at an early age "because children form attitudes about 'what kind of career is right for me' many years before the actual university application process begins".