Flagship academy's business links probed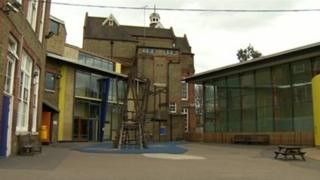 A flagship south London academy praised by education ministers of all parties has come under examination by the public spending watchdog.
The National Audit Office sets out a string of conflicts of interests in the way the Durand Academy Trust has managed its schools and its assets.
The Department for Education has now taken action to address these issues.
The NAO investigation revealed 17 other academy trusts were involved in irregular or improper transactions.
Durand Academy Trust runs an infant and a junior school in Stockwell, and a small free state boarding school in Sussex, which opened this term.
But it also draws an income from leisure facilities and accommodation that it owns in south London.
'Conflicts of interest'
The report said the association between the trust and its related organisations was "complex".
And it found individuals on the trust's board were also acting as directors or staff at companies from which the academy trust had purchased services.
One example of a perceived conflict of interest involved monthly payments of £20,000 to a media relations company called Political Lobbying and Media Relations Limited. The majority owner of this company, Kevin Craig, became the trust's vice-chairman at a later date.
There were also concerns raised over the salary of Durand's executive head teacher, Sir Greg Martin, which rose from £146,415 in 2011-12 to £229,138 in 2012-13 (including salary and pension contributions). A pay rise of 56% in a single year.
The Commons Public Accounts Committee, which publishes NAO reports, calls on the agency over-seeing academies to "get to grips with" any potentially "dubious business relationships" within these state-funded but independently run schools.
Its chairman Margaret Hodge said: "It feels just wrong that individuals sitting on the board of the Durand Academy Trust could set up such a complex web of organisations and companies some of which are selling goods and services to the academy.
'Whistleblowers'
"It's not at all clear if individuals within the trust were improperly benefiting from these companies."
And during the investigation, it emerged that nearly 1,000 academy trusts had disclosed transactions worth £71m with related parties in their financial statements to the Education Funding Agency, which oversees academies.
Of these, 54 cases were found to be a risk to value for money and needed follow up work.
The EFA went on to establish that transactions at 17 academy trusts were irregular or improper and is taking action to address this.
She added: "In 2012-13, 43% (976) of the 2,256 academy trust financial statements revealed related-party transactions, and £8.6m of these payments posed a risk to value for money.
"I am very concerned that the agency's reliance on whistleblowers and ad hoc reports means that many more questionable business relationships could exist and have gone unchallenged, putting public money at risk."
A spokesman for the Durand Education Trust said the EFA is clear that the its business arrangements had delivered "significant benefits for the pupils of Durand" and were established in good faith.
"Without these arrangements, we would not have been able to invest £8m of our own funds over the last decade to develop new school sites to give many more children exceptional educational opportunities under the brilliant leadership of Sir Greg Martin.
"However, we agreed with the EFA to review our structures and governance six months ago, so that we remain in line with the very latest edition of the Academies Financial Handbook. As the NAO's report confirms today, many of the changes we instigated back then are already complete, or under way and nearing completion."
'Rapid and robust'
On Sir Greg's salary, he highlighted the head's "hugely demanding role" and that he was "an exceptional man doing great things for children, many of them from disadvantaged backgrounds".
A Department for Education spokesman said its academy system enabled the government to take "rapid and robust action" to ensure public money is being used appropriately.
It said it stepped in as soon as concerns emerged over Durand Academy Trust and that the NAO report was clear that it acted promptly.
"As a result the trust agreed to act to ensure transparency and remove potential conflicts of interest.
"The report shows that our process for managing related party transactions is rigorous and consistent. We have also strengthened our guidance on these transactions, making it clear that they can only be delivered on a cost-only basis."