Universities warned over boycott pay docking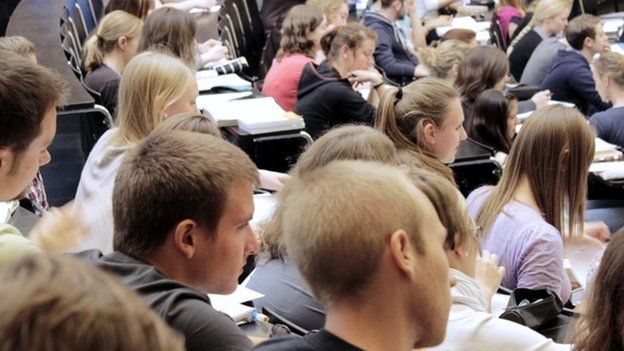 Dozens of universities have been warned they could face further industrial action if they dock full pay from staff beginning a marking boycott.
Academics at 69 UK institutions are set to take part in the protest from Thursday, amid an ongoing pensions row.
Hundreds of thousands of students could be affected by the disruption, which academics' union the UCU has said will continue until the dispute is resolved.
Universities UK said it was "committed to continuing negotiations" with UCU.
The boycott covers setting coursework, formal marking and feedback on work.
It is to last until the dispute is resolved and could also bring any planned exams to a halt.
The UCU said, as the action began, it would be unfair if universities withheld full pay from members taking part, as assessment and marking makes up only a minority of work for most academic and professional staff.
The union claimed that some institutions have proposed to fine workers 100% of their wages and warned that if they did so, they could face a full academic boycott.
This is the union's ultimate sanction and has been used just once before in the union's history.
It could mean members also refuse to carry out work such as holding lectures and seminars, organising or speaking at conferences and writing for the university's academic journals.
It is understood that it is down to individual universities to decide whether to dock pay, and if so, how much.
Universities UK (UUK), the employers' representatives, has previously said that it is disappointed that the UCU is pursuing a "damaging" course of action through a marking boycott that would directly impact on students.
The dispute focuses on changes to the Universities Superannuation Scheme (USS), which have been prompted by an expected deficit in the pension scheme.
UCU claims that the process used to work out the deficit is too simplistic and does not take into account the strengths of the scheme.
But UUK has said that the current proposals offer the best possible deal under the terms that the trustees of the USS have set, and added that it wants to hear UCU's own proposals for dealing with the deficit in the scheme.
UCU general secretary Sally Hunt said: "Docking 100% of pay from staff who are continuing to perform the vast majority of their duties is completely unethical and risks causing greater damage to students' education.
"Punitive pay docking could lead to lectures and seminars being cancelled as members refuse to work for free."
"The union is clear that not only will we fully support any members facing punitive pay docking, but we will take steps to isolate the worst offenders as pariahs within the global academic community."
A UUK spokesman said: "The employers' proposals to reform the scheme are based on detailed advice from pension experts and actuaries.
"USS modelling work on the possible impact of these proposals for scheme members is based on assumptions agreed between the employers and UCU and has been shared with institutions.
"The employers are committed to continuing negotiations with UCU to seek a joint proposal for reform that offers an affordable, flexible and attractive pension scheme, for both current and future members, which is sustainable for the long term."
Earlier this year union members walked out several times in a dispute over pay.
Related Internet Links
The BBC is not responsible for the content of external sites.