Ofsted will not win popularity contests, says Wilshaw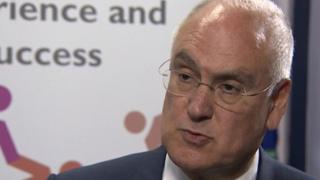 "Ofsted is unlikely to win any popularity contests," the chief inspector of schools has admitted.
But Sir Michael Wilshaw went on to deliver a stinging rebuttal of criticisms of England's education watchdog by council leaders.
Local government leaders have called for an independent review of Ofsted as they say U-turns and leaks have thrown its independence into question.
Sir Michael said Ofsted would always adapt to higher expectations.
He challenged the audience of councillors and local authority leaders whether they could say the same.
"We are not a perfect organisation," Sir Michael told a conference in Manchester.
But he said that Ofsted was also "a reflective organisation".
"We think deeply about what we need to do to inspect across our remits."
Downgraded
The Local Government Association says Ofsted urgently needs to face an independent review.
It highlights cases such as Ofsted's re-inspection of five of the so-called Trojan Horse schools in Birmingham, which downgraded them from "good" or "outstanding" to "inadequate" in some cases in less than a year.
The LGA asks which verdict is to be believed.
In a robust defence of Ofsted's record, Sir Michael said those "who would question why outstanding schools in Birmingham could so quickly decline to inadequate have very little understanding of how things can go so badly wrong, when sudden changes in leadership trigger a set of events that lead to failure.
"Those head teachers who had spent their careers improving schools in Birmingham were intimidated and marginalised out of their jobs and received little or no support from the local authority.
"Have you learnt the lessons of Birmingham and the way in which you should listen to what teachers and head teachers are saying about what's going on in their schools?
"Is a spot of Ofsted-bashing displacement activity?"
'Obstacles'
He said councils needed to recognise that they were too often seen "as obstacles to change and to reform and improvement".
"You know that there are those who would say that you have spent too much time over the years conceding to vested interests and championing the supplier over the consumer- the children and young people in our schools.
"There will be those who still see you as leaders who are far too content to preside over the status quo and mediocrity in our schools.
"After all, they would argue, academies and free schools would not exist if successive administrations had seen you as the solution and not the problem.
"So, I'm being frank with you... Ofsted is here to challenge the system to do better. Are you prepared to do the same?"
Responding, David Simmonds, chairman of the LGA's children and young people board, told Sir Michael that he had laid down "a very reasonable challenge" to politicians in local government.
But he stressed the need for "absolute credibility and confidence" in all parts of the education sector, including in regulators such as Ofsted.