David Laws says 'politicians' whims' are harming schools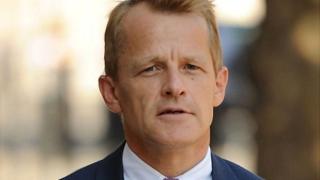 The Schools Minister David Laws has warned of the "corrosive impact" of self-interested political meddling in schools policy in England.
He is calling for an independent body to set the curriculum content and measure whether standards in schools are really improving or declining.
The "whims of here-today, gone-tomorrow politicians" should not decide which books pupils study, Mr Laws said.
Labour say the Lib Dems are "entirely complicit" in the "damaging" policy.
The schools minister, setting out Liberal Democrat ideas, said parents and teachers would have much greater confidence in an education system with less "political interference".
Mr Laws called for an independent Education Standards Authority, which would:
Control curriculum content and prevent short-term political changes
Provide an objective measure on standards to stop politicians "marking their own homework"
The minister also said the Lib Dems would keep the academy school system, and allow more free schools to open, but only in places where there was a need for extra places.
'Turbulence'
There was an important role for politicians in setting the overall strategy and financing of the education system, said Mr Laws, but the detail should be left to subject specialists.
"Ministers float in and out of the department, often for quite short periods of time" which created "too much turbulence", he said.
Mr Laws took what will be seen as a swipe at the controversial re-writing of the curriculum under the previous education secretary Michael Gove, saying parts of the English and history curriculum have been decided "on a whim".
There were arguments over changes to GCSE English which saw the removal of modern American writers such as Arthur Miller, F Scott Fitzgerald, John Steinbeck and Harper Lee.
The proposed Educational Standards Authority would "put subject experts in the driving seat rather than politicians".
"Subject experts could have a greater perspective over a long period of time, rather than having things chopped and changed around." the minister said.
However, Shadow Secretary of State for Education Tristram Hunt said: "Nick Clegg's party signed off on the failing free schools programme, on allowing unqualified teachers into the classroom on a permanent basis and on all of Michael Gove's interference in our schools.
"The Liberal Democrats are entirely complicit in delivering this Government's damaging schools policy. Nick Clegg's party's record shows that the Liberal Democrats cannot be trusted with raising standards in our schools."
Mr Laws also warned that party politics was getting in the way of an objective assessment of standards in schools, and argued that an Educational Standards Authority would provide an independent analysis.
Any improvement in standards under the previous government was "down to grade inflation", he said.
'Bogus claims'
"It's much better in the long run, even if it's uncomfortable for politicians in the short run, that these things are informed by real evidence of what's going on."
Mr Laws called for "realistic comparisons with other countries, based on evidence rather than bogus claims about the latest performance data, which are based often on a partisan assessment".
"We'll have a better education system if the degree of political volatility is reduced and policy-making is based more on evidence and less on what suits the politicians in control," he said.
A head teacher of an all boys academy in Manchester told BBC Breakfast that interference from London politicians causes him more anxiety at work than anything else.
Ian Fenn said: "Does the health secretary tell surgeons how to operate? No. So why would an education secretary tell me and my colleagues how to teach and what to teach?
"I've had more anxiety as a head teacher about what's coming from London in terms of interference in how I do my job than anything else and that includes recruitment and budget."
Mr Laws said independent schools benefited from being at a "greater degree of distance" from the constant upheavals in the state sector.
With the general election on the horizon, political parties are seeking to win over the education vote of teachers and parents.
David Laws said the Liberal Democrats were making a "cradle to college" spending promise to protect budgets from pre-school classes through to the 16- to 19-year-old-age group.
In contrast, he warned the spending plans of the Conservatives beyond the election would leave education services unprotected and at risk of being cut.
He said the Liberal Democrats in office had delivered the pupil premium to support disadvantaged pupils and free meals to infant pupils.
Mr Laws also said he wants to extend free meals to all pupils in primary school.
But the Lib Dems are not likely to call for any reversal in the drive towards more academies and free schools.
"I think we're going to have to work with the system we've got," he said.
There is divergence with their coalition partners over allowing Ofsted to inspect academy chains.
"I think it's inevitable - and most people in Parliament think it's not defensible in the future to have a different system of accountability for academy chains and local authorities," he said.
And there is no ruling out more free schools.
With the right sponsors and in the right areas, he said: "We're certainly not saying that we couldn't have any more free schools."