Children's social work to have new set of standards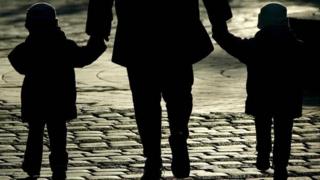 The government has announced changes to children's social work in England, to restore confidence in the service.
A set of new professional standards will drive culture change and refocus the profession on the "front line", said Education Secretary Nicky Morgan.
The move follows a series of scandals, including the revelation of widespread sexual abuse in Rotherham.
Mrs Morgan said the changes would ensure "the brightest and best lead rather than leave the profession".
'Red tape'
In a speech to the National Children and Adult Services Conference in Manchester, Mrs Morgan highlighted the Jay Report into Rotherham, where 1,400 children were groomed and abused over a 16-year period.
She said the report had noted too much focus in social work departments on "reviews, audits and plans" rather than on front line engagement with young people and their families.
She said social workers were often bound by needless red tape and too many were leaving the profession.
The education secretary announced plans for a new assessment and accreditation system for three levels of professional practice for children's social workers.
The restructuring will include a new Approved Child and Family Practitioner status which will be an essential requirement for any social worker in cases of children in need, children at risk of harm and children in care.
The government says this will be a "stretching new standard for all those employed in the most demanding front line social work roles".
There will also be a new status for social work supervisors, as "high quality supervision is essential for effective front line practice".
In addition, a new senior practice leader in every local authority will work with directors of children's services.
The aim is "a consistently excellent children's social work profession that focuses on the front line, attracts the very highest calibre individuals and is confident in its expertise and achievements", said Mrs Morgan.
She said the aim of the changes was to make social work more like the teaching profession, that is "respected and highly proficient, free from the burden of over-prescriptive guidance and paperwork, free to use their professional judgement to make sensible decisions about the children in their care, with responsibility and accountability for their work".
A government statement of the knowledge and skills needed for children's social work is due to be published next month.
Bridget Robb, chief executive of the British Association of Social Workers said it was "really great" that a secretary of state was talking about social work but warned it was important "to understand there are challenges in bringing this to reality on the ground".
Ms Robb said the aim of having the new structure in place by next year was "ambitious".
"We don't want to undo the potential good of the new system by rushing it," she added.
She said it was unclear who would assess, accredit and hold the register of the new children's social worker grades.
'Significant step'
Mrs Morgan also announced a third year of funding for the "Frontline" graduate training programme for new social workers, which focuses on on-the-job experience from the outset.
Frontline chief executive Josh MacAlister called the announcement a "significant step".
"The commitment shown by government means that we can continue in our mission to transform the lives of vulnerable children who need outstanding social workers.
"The aim of improving outcomes for children at risk is a national challenge and we are delighted to contribute to this."