Ofsted's Norfolk schools inquiry faces independent review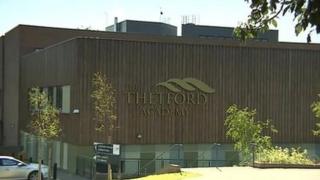 The investigation into alleged inspection irregularities at three Norfolk schools faces a review by an "independent figure", Ofsted has said.
The move follows the emergence of emails that were not available to the original investigation.
The report, published last month, found no evidence the academy schools had been improperly warned about when to expect inspections.
Ofsted's integrity "is vital" said chief inspector Sir Michael Wilshaw.
The original report into the claims was carried out by Ofsted's director of quality and training, Sir Robin Bosher.
Inspection schedule
It said Dame Rachel de Souza, chief executive of the Inspiration Trust, which at the time oversaw all three academies, had mistakenly been copied into an email containing an inspection schedule.
The schedule went to Dame Rachel in her role as a part time inspector.
The report said the inspection date was subsequently changed.
It said that Dame Rachel told the investigators she had not passed on any of the information from the email. The report added that the investigating team found nothing to "cast doubt on this assertion".
The schools concerned are Thetford Academy, Great Yarmouth Primary Academy and Ormiston Victory Academy in Norwich.
At the time Dame Rachel was also chair of governors at Great Yarmouth Primary Academy.
The inquiry followed reports in the Observer newspaper that they had known in advance about impending Ofsted inspections, giving them an unfair advantage.
A parent at Ormiston Victory Academy said he had warned Ofsted that his child had been told of an impending inspection in May 2013.
Ofsted says a number of new emails that were not available to Sir Robin at the time of his original investigation have emerged.
The watchdog says it will confirm the appointment of the independent reviewer "in the next few days".
Public confidence
"The ongoing claims that have been made about certain schools in Norfolk being given advance notice of Ofsted inspections are very serious", said Sir Michael.
"It is vital that the public has absolute confidence in the integrity of the inspection process. That is why I immediately asked Sir Robin Bosher to examine these allegations when they first surfaced in August.
"Sir Robin conducted a thorough investigation, which included 39 interviews with relevant parties and visits to the three academies in question. But I made a public commitment that should any additional evidence come to light, I would have no hesitation in bringing in someone from outside Ofsted to examine this.
"For the avoidance of any doubt, I will be asking this independent reviewer to examine all the evidence originally considered by Sir Robin and to establish whether his findings and recommendations still stand in the light of the new email evidence that has now emerged."