'Scrap ban' on term-time holidays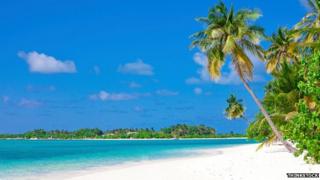 The ban on term-time holidays from school should be scrapped so head teachers can take a "common-sense approach", say council leaders.
Since September last year, local authorities have been obliged to fine parents who take children out of school for unauthorised absences.
But the Local Government Association says the new rules do not recognise the complexities of family life.
A Department for Education spokeswoman said heads still had flexibility.
Until last September, heads could grant up to 10 days' leave a year for family holidays in "special circumstances".
But now head teachers can grant absence outside school holidays only in "exceptional circumstances".
And local authorities are obliged to instigate fines and enforce legal proceedings on behalf of schools.
This means parents who take children out of school during term-time, often to avoid very high holiday costs, can receive automatic penalty notices of £60 per child. This rises to £120 if not paid within 21 days.
Parents who fail to pay could face prosecution and a maximum fine of £2,500 or a jail sentence of up to three months.
The LGA said that while councils fully supported the Department for Education's stance that every child should be in school every day, there were occasions when circumstances should be given individual consideration.
These might include religious festivals, weddings, funerals or even once-in-a-lifetime opportunities.
'Black and white'
David Simmonds, chairman of the LGA's children and young people board, said: "Ensuring every child has a good school attendance is of paramount concern for everyone working with children.
"However, common sense must prevail in cases when mums and dads ask to take their child out of school during term-time if there is a legitimate reason.
"An outright ban is too simplistic and doesn't recognise that family life and circumstances aren't always so black and white.
He added that head teachers knew families' circumstances and "should be trusted to make decisions without being forced to issue fines and start prosecutions".
But a spokeswoman for the Department for Education said that heads had the option of allowing time off if necessary.
"We have been clear that all head teachers are free to grant pupils leave in exceptional circumstances.
"It is up to them to decide whether to grant time off, and how much to grant. This appears to be exactly what the LGA is calling for."
'Little option'
Christine Blower, general secretary of the National Union of Teachers, said: "The problem lies with the holiday companies and airlines and if this issue is to be addressed sensibly then there should be pressure put on them, not schools.
"Many teachers are parents and we entirely sympathise with the dilemma caused by price hikes for breaks during the school holidays.
"In particular, at this time of pressure on pay, our sympathies are with those on low pay who have little option but to take the cheapest holiday they can find.
"It remains the case that pupils can be granted time off in exceptional circumstances."