Student loans: The talented state school pupils denied funding
By Katie Razzall
Special correspondent, BBC Newsnight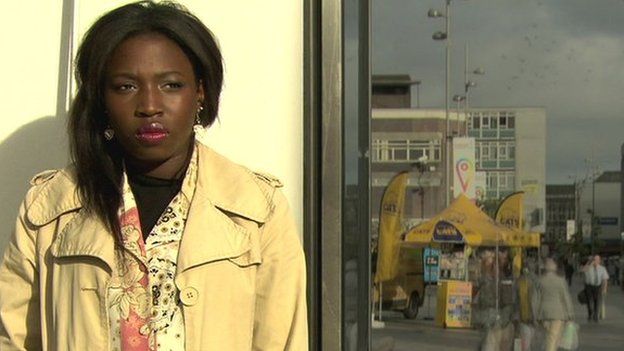 "I've got the grades, I've been to sixth form, I've studied for my exams, I did everything that's within my power."
She was born in Spain to Senegalese parents, but has been educated in English state schools since she was 12 years old.
While her school friends have moved on to higher education, Astou is stuck at home in Sunderland, even though she has a place at university.
When she applied for a student loan, she discovered she would be treated as an overseas student because her immigration status isn't settled.
Chrisann Jarrett was also turned down for a loan for similar reasons.
"I didn't think my immigration status would be an issue," she says.
"It's embarrassing. It made me feel different, to realise I have this British accent, but I'm not the same, I'm set apart.
"It's hard to deal with."
Chrisann came to Britain from Jamaica when she was eight years old.
The former head girl at a London state school has an A*, an A and a B at A-level and a place at London School of Economics (LSE) to study law.
But her family delayed making its immigration application until after rules changed, so, years later, she too is ineligible for a student loan.
Even though the state has funded the young women's schooling, it won't loan them the money to go to university.
Until someone is granted indefinite leave to remain in the UK, they are not entitled to student finance, even though they may have been here for years and intend to stay and work in Britain.
There are about 120,000 under-18s with irregular migration status estimated to be living in the UK.
In many cases, if their parents or carers had filled in the relevant paperwork when they arrived in this country, they would already be British in the eyes of the Home Office.
Immigration lawyers say once someone has been granted discretionary leave to remain, which many of these children have, it's likely their status will become permanent.
But this can take time and many could wait up to a decade.
She has even come across cases of children born in the UK to migrant parents who find out they aren't officially British only when they try to go to university or get a job.
"We're picking up a lot of children or young adults who suddenly get quite shocked to find out they're not British, or they have no status," she says.
"Some of these children were born in the UK.
"They're about 20 or 21 and about to go to university or apply for jobs and they're... utterly destroyed... by the fact that they can't carry on their lives."
Until 2008, migrant children who had spent seven years in the UK could apply to be British citizens.
In the present climate, it is perhaps unsurprising the rules have been tightened up.
Added to that, changes to immigration rules - introduced in 2012 - prevent young people without indefinite leave to remain in the UK from accessing student loans.
The paradox is that many of these young people, including Astou, can claim benefits.
"I'm being told: 'you can't go to university and get a career, but you can sit at home and receive money from us each week'. That confuses me," she says.
Astou is adamant that is not what she plans to do and says she is busy looking for a job, while her dreams of being a lawyer are on hold.
Chrisann has been more fortunate.
LSE deemed her such an exceptional student it has given her a full scholarship to study law.
She is running a campaign Let Us Learn to help other young people like her.
"The state has already paid for primary and secondary and sixth form," she says.
"They are excluding so many amazing young people who will be a benefit to Britain - they will be a credit, they will pay taxes, and it will be better if they get a degree."
Lawyers are hoping to take a test case to the Supreme Court later this year.
It concerns another young woman, Beaurish Tigere, who came to the UK from Zambia when she was six years old.
She too has been denied a student loan.
The highest court in the land will rule on whether young people who have a right to be in Britain, but don't yet have permanent status, can access the same opportunities for higher education as everyone else.
The Home Office told Newsnight it would look at cases of young people with uncertain immigration status if they were brought to the government's attention.
Related Internet Links
The BBC is not responsible for the content of external sites.