Ebola teaching material sent to UK schools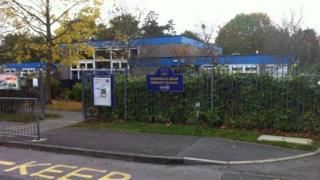 Thousands of schools across the UK are being sent teaching resources on the Ebola virus to help students develop a better understanding of the disease.
The charity Action Aid said it was sending out the resources to give pupils "the real facts" about Ebola.
The package can be adapted to suit children of a range of ages.
The advice comes after a school in County Durham postponed a visit from a teacher from Ghana, after parents voiced concerns about the disease.
In another incident, a father took his daughter out of her secondary school because staff would not let her wear a facemask for protection.
Quizzes and maps
The Action Aid teaching resources include a quiz, photos from Sierra Leone and Liberia, maps, information graphics and links for up-to-date information and statistics.
Chris Parker, Action Aid's schools team manager, said: "With fears riding high about Ebola and a handful of cases reaching Europe and the United States, pupils may be worried and starting to ask questions in school.
"Our teaching resources focus on facts rather than playground myths about the disease and explain why Ebola is having such a devastating effect on Sierra Leone, Liberia and Guinea.
"They also reassure children that the risk of Ebola in the UK is low and how well equipped our hospitals are to deal with any cases that we may see here."
Action Aid has been working in Sierra Leone and Liberia to combat Ebola since June, giving food aid to quarantined families, distributing medical equipment to local health workers, including rubber gloves and protective overalls, and survivor packs to people who have recovered from Ebola.
Ebola outbreak
The outbreak has killed more than 4,500 people in West Africa, with Liberia, Guinea, and Sierra Leone the three worst-affected countries.
On Monday, the World Health Organization (WHO) declared Nigeria - West Africa's most populous nation - officially free of the virus after six weeks with no new cases. It comes after WHO officially declared Senegal Ebola-free on Friday.
In the UK, screening for passengers from affected countries started at Gatwick Airport on Tuesday. Heathrow began screening last week.
Screening for Eurostar passengers arriving at London's St Pancras station, along with passengers at Birmingham and Manchester airports, is expected to start soon.