Virtual lessons a boon for Birmingham school hit by fire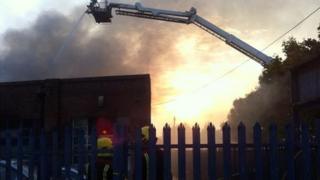 Pupils at a secondary school closed by a fire are learning online in what is being claimed as the UK's biggest virtual school experiment.
Yardleys School in Birmingham has been shut because of a fire in a nearby warehouse - but pupils are logging on to the Yardleys Virtual Academy.
It allows them to take part in lessons on video-conferencing systems and online messaging networks.
Deputy head David Pohl says the pupils have been quick to adapt.
Although the virtual school is the result of necessity rather than choice, Mr Pohl says that it has shown the potential of using online technology for lessons.
He says the use of online tuition is likely to continue after the 925-pupil school in Tyseley has fully reopened. It has been closed because of fears of asbestos contamination following the fire on 29 September.
Interactive video
Mr Pohl says teenagers are so familiar with using online technology, whether for homework or leisure, they do not have any difficulties with the idea of virtual lessons.
Pupils are being taught part-time in a range of temporary settings, but they are able to access a much wider part of the curriculum from home through the virtual lessons, with 80 lessons a day being provided.
About half the school's pupils have signed up for the virtual academy, he says.
Mr Pohl says he would not want a completely virtual school, but as an additional service there has been a very positive reaction.
The Yardleys Virtual Academy has been created by an online education firm, Tute.
Sean Gardner, the firm's chief executive, describes the way it works as a "mash-up between Facebook and Skype".
Teachers provide interactive video lessons, accompanied by the online equivalent of an interactive whiteboard. Pupils can also use a chat-style messaging system.
There can be 23 lessons, teaching 500 pupils, running concurrently, he says.
Mr Gardner says this system allows them to work together collaboratively.
Virtual schools have become increasingly available in the United States, but in the UK their use has tended to focus on particular groups, such as looked-after children or those out of school.
The Yardleys Virtual Academy is believed to be one of the biggest virtual school projects in mainstream education.
Stopping dropouts
But many schools and colleges in the UK already supplement their lessons with online systems - often known as "virtual learning environments" - where pupils can find information to use either at school or at home to support their homework.
Online learning systems can also be a way for teachers and college lecturers to communicate with teenagers who might be hard to reach in other ways.
Social networking can be a more effective way to communicate with teenagers.
South Staffordshire College has its own "virtual engagement network" which provides students with a place to talk to each other and a way for staff to deliver information about courses.
It is also intended as a way of engaging with students in further education and reducing dropouts.
"Institutions are losing millions in funding each year through students dropping out within the first three months of the school year. Much of this is down to a lack of initial engagement between the student and teachers and institutions," said Harry Jawanda, chief executive of Wambiz, which created the virtual network.