Children's mental health projects now eligible for grants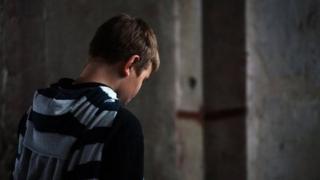 Groups offering mental health support to children and young people in England are for the first time eligible for government top-up grants.
They will be able to bid for a share of next year's Voluntary and Community Sector Grants, say ministers.
Childcare and Education Minister Sam Gyimah said this showed the government took the issue "incredibly seriously".
The National Children's Bureau said funding for projects to identify mental health issues early was badly needed.
NCB chief executive Anna Feuchtwang said: "The peak onset of most mental health conditions is between eight and 15 years and young people tell us that having mental health needs better addressed is one of the key improvements they most need."
Groups can bid for awards worth up to about £750,000 from the £25m fund.
'Make a difference'
The awards are open to voluntary and community sector organisations, social enterprises and other organisations on a not-for-profit basis,
The grants are designed to "bolster the work of organisations that make a difference to children and their families", says the Department for Education.
They will be paid for the year beginning in April 2015.
Applications must be in by 21 November, with successful bids announced in March
Groups offering services in six other priority areas can also apply:
Early education and childcare
Special educational needs and disability
Child protection
Children in care and care leavers
Adoption
Family advice and support
The move to include mental health projects follows the launch of the Children and Young People's Mental Health and Wellbeing Task Force, which will make recommendations on how local authorities can best look after the mental health needs of young people.
Ministers say the grant money will be targeted at projects designed to improve the identification and prevention of mental health issues in children, better commissioning of support and more collaboration between agencies and services.
Clear signal
"One in 10 young people can struggle with a mental health problem, battling with what can too often be hidden from view," said Mr Gyimah.
"By identifying mental health as a priority in this scheme we want to send a clear signal we take this issue incredibly seriously. I encourage all organisations that are passionate about making a difference to children and young people to come forward and bid."
Ms Feuchtwang said a recent NCB report, Why Children Die, highlighted suicide as a leading cause of death in young people.
"We know that government is taking this very seriously and hope that its child mental health taskforce later this year will drive forward better access to services for all children with identified mental health needs."
Sarah Brennan, chief executive of the charity Young Minds, said voluntary sector services to young people had been badly affected by local government funding cuts.
"Often these services are more flexible, more tailored and have lower thresholds for access than statutory services.
"It is really good to see that there is recognition of the work that they do in intervening early and helping children and young people before it gets to a situation where they need more intensive care.
"We are really pleased this fund will help many of these services provide more much needed support to thousands of vulnerable and at risk children and young people."